IBB'S MAN DECLARES FOR JONATHAN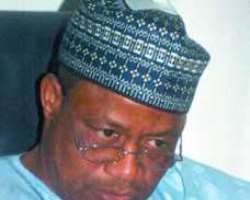 The Publisher of the defunct Hotline Magazine and one of the numerous beneficiaries of General Ibrahim Badamasi Babangida's benevolence, Alhaji Hassan Sani Kontagora, at the weekend publicly declared support for President Goodluck Jonathan's 2011 presidential ambition.
Speaking in Kaduna as a guest speaker at a rally organized by Coalition of Youths from the North West geo-political zone in support of Jonathan/Sambo ticket, the publisher challenged those he referred to as 'deadwood politicians' in Abuja and former northern leaders like General Babangida who held sway in Nigeria in the past, to give account of what they had contributed to the development of the North, as a region.
'Where were those northern leaders like IBB who now want to come back again and deceive us, when our area remain undeveloped? Their cup is full; we are now wise enough to know what is good for the North.
'Nigeria's constitution has given Jonathan every right to come out and contest, so nobody should create sentiments of religion, North or South to deceive Nigerians. We shall elect into power who we deemed fit to move this country forward and we will not turn our children into orphans and beggars.
'No governor can decide the faith of his people, the people will decide who they want to elect including the governor himself. 'The people of Kaduna State have already conducted our election and we have declared our full support for Jonathan to contest for the office of the president in 2011, zoning or no zoning and we expect the governors to also seek for our support,' Kontagora, who is a native of Niger State, declared.