SINFUL EFFIZY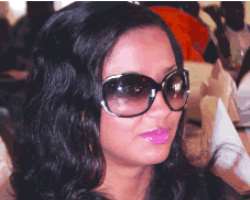 Hot assault
Even from 100 meters, thermometers can still pick up the seductive heat coming from this effizy cleavage show. Kendra and Holly would certainly go green with envy seeing you. But the primary concern of this court is to protect the 'innocent minds' of many Nigerian teenage boys and also stabilize marriages which may have been set rocking after the men at this event took open and secret glances at you. Pay a fine of N1million.
Forest of a thousand…
Bros, is this dreadlock or you just forgot to comb your hair? There is every indication that we could actually hunt for snakes and rodents in the 'forest' you have up there on your head. We are even convinced that sighting the 'forest' alone could give little children nightmare. So go get a good haircut, but first pay a fine of N500,000 in the form of cartons of Bournvita, Peak 1-2-3, Indomie and Milo Ready-to-Drink, which you should deliver to the Little Saints Orphanage.


.


Cut-and-sew nonsense
Girl, your one-quarter-yard teru micro-mini is in bad taste. This court is left to wonder whether there is a severe scarcity of materials such that your cut-and-sew tailor was not left much choice. And to make matters worse, you tried to tamper with the evidence after you were caught by the fashion police. Pray, what is that bag doing on your laps? Is it to cover up the glaring evidence of your misdemeanor?
To ensure fair hearing, your tailor is summoned to appear at the next hearing to explain whether he bought the one-quarter cloth used in sewing the micro-mini or you provided it. Until then,
you are to remain in custody to protect
decent members of the society
from visual assault.


Bra crime
This court frowns on the exposure of bra straps to every Aki and Pawpaw, Salt'n'Pepper. But given that you are a first time offender, this court is inclined to temper justice with mercy. But it must strict conditions to ensure that you would henceforth demonstrate good bra behaviour. In line with this therefore, you are to report every morning for the next three months to the office of the Police Public Relations Officer, Lagos State Command, ASP, Frank Mba, who is mandated to issue you with a weekly Certificate of Good Conduct every Friday.


Benin-Ore back
How dare you wear a bare back dress when you know that your back looks like Ore-Benin Road? Is it by force that you must wear this sort of dress? By your brazen act, you have contravened Section 404 of the Style Act. The Commander of KAI is ordered to arrest and convey you to Lagos State University Teaching Hospital where you will be attended to by a Consultant Dermatologist (in case you do not understand that, it means a doctor who is a specialist in treatment of skin problems). You are to pay a fine of N600,000 as professional fees to the
dermatologist for your treatment.


Unnecessary
Have you ever heard the expression, less is more? You are so pretty that you don't need to display so much flesh to make a fashion statement. Seeing that you extremely love to show all, you are sentenced to six months full exposure on Koma Hill. Court!