NORTHERN PRESIDENCY BEST OPTION FOR NIGERIA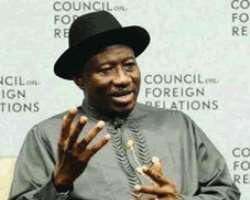 South East-Northern Alliance (SENA), in conjunction with Ohaneze Youth Congress has declared support for a Northern president in 2011 insisting that it is the best option for Nigeria. The group also declared support for former Vice President, Alhaji Atiku Abubakar as the next President of Nigeria.
Addressing newsmen in Enugu, National President of South East-Northern Alliance (SENA), Chief Stanley Okeke, a former governorship candidate in Anambra State under Congress for Democratic Change (CDC) in 2007, and the Chairman of Ohanaeze Youth Congress (OYC), Comrade Chijioke Onyekaonwu said a northern president is to the best interest of the nation.
'This is the only way to ensure that power moves from the North to the South-East by 2015 to demonstrate the full integration of the Igbo into the mainstream of Nigeria. 'This is the only way to put an end completely to the 30 months civil war,' the joint group stated.
It argued that advocacy for zoning is not a war against President Goodluck Jonathan but a crusade for equity, justice and fair play as well as for peace, unity, stability and development of Nigeria which it said General Yakubu Gowon fought to keep. 'Zoning will not be forever but it is very necessary now to stabilize our young democracy', they said.
On the support for Alhaji Atiku Abubakar, the South East-Northern Alliance stated that Atiku is a politician of note both locally and internationally saying he has proved his worth as a reliable, transparent and exemplary leader.
'Atiku's doggedness is certainly unparalleled in Nigeria's political history. Atiku deserves to lead this country. He is politically more experienced to be Nigeria's President having been Vice President for two terms of eight years. All the while, he had proved to Nigerians that he is one leader they can trust and go home with their two eyes closed and all will work well,' the group added.
It maintained that in a federation like Nigeria, zoning is more democratic because it addresses some of the key issues in federalism like fair play and accommodation of all for national unity and stability, adding that with zoning, it is expected that Nigeria will gradually tap into some sound political minds that are abound in the ethnic groups across the country.
'The zoning issue has the potential to become quite explosive and portends grave danger to the body politics of Nigeria as a nation. The policy objective behind this provision is not only clear and obvious but is laudable especially in the context of Nigeria's rich diversity as well as her chequered political history', it added.