ABIA GOV, ORJI, REJOINS PDP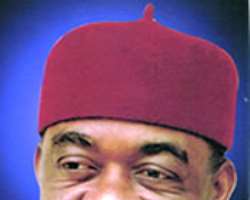 Gov. Theodore Orji
Abia State Governor, Theodore Orji, yesterday, ended months of speculation as he formally rejoined the Peoples Democratic Party (PDP) at a ceremony that had in attendance President Goodluck Jonathan in Umuahia.
President Jonathan, at the event held at the Umuahia township stadium, restated his commitment to free and fair election in 2011 even as he charged members of his party to work hard to achieve that in order not to be queried by the international community.
Jonathan said he is passionate about his party but that it had nothing to do with the elections. 'We have to do what is right in order to continue bring good leaders,' he said while thanking the PDP elders in the state for the unity in their fold.
'I have to thank PDP elders in Abia for what is happening today (Yesterday). Let me specially thank Chief Onyema Ugochukwu for making this event possible, because he was the one that contested election with the governor and there are so many litigations in court over the election. Without him dropping the suits, all we are witnessing today would not have been possible.'
He said with the entry of Orji into the party, there is no PDP state that is as united as Abia.
'Our primaries is an election before election and once we do that we will go and start celebrating. 'The whole of South East is a critical place and I have never seen a people that work hard like the Igbo. If you remove men and women of Igbo origin doing business in Lagos, Lagos would go into oblivion,' he said, adding that he had noted the request of the governor and would together help him to build the state.
Jonathan further said that now that PDP has got Abia, the next target is Anambra, which he said would join in no distant time. Earlier, Governor Theodore Orji called on the President to give Abians a special package as their in-law since his wife is from the state. He promised that Abia will support the President.
'Abia is number one in your support. You are anointed. If there are people who will not support the president, let there be confusion in their camp. I have come back to PDP. If I have problem I can freely go to him and say help us. When I was in another party, he could say that helping us is anti-party (activity). But today it will no longer be anti-party to help members of your own party,' Orji said.
In his opening remarks, the PDP National Chairman, Dr Okwesilieze Nwodo, who a month ago made the first move to woo the governor into the party, said that they had finally found their missing rib. 'This is a historic occasion that will usher in good governance in the state. What we are seeing here today can only be done by God alone,' he said.
He later handed over the PDP flag to the governor.
Other speakers at the event included the immediate past PDP National Chairman, Chief Vincent Ogbulafor, Chief Onyema Ugochukwu, Senator Ike Nwachukwu, Senator Nkechi Nwogu, Chief Ojo Maduekwe, Governor Martin Elechi, Senator Uche Chukwumerije, and Hon Agwu U. Agwu of the Abia House of Assembly.