OSAZE GETS REAL TASTE OF PREMIERSHIP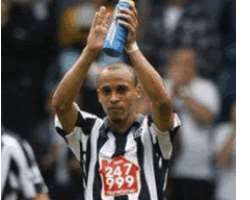 Osaze
Nigerian-born Peter Osaze Odemwinge, who joined returnee Premier League side, West Brom Albion this month, announced his arrival with a goal against Sunderland last week. His fantastic display on his debut for his new club and his subsequent goal, which turned out to be the only goal of the match, made him an instant hero.
However, his feat of last Sunday will be put to test when West Brom travel to Anfield to face Liverpool this time around.
Liverpool will unleash its fury on West Brom, having been dealt with by Manchester United on Monday. It will use today's encounter to reassure its vociferous fans that the Anfield side is still a force to reckon with in the Premiership.
This is not the first time both sides are meeting, but it is their first match since West Brom returned to the English Premier League this season. In the past, Liverpool had always had upper hand over West Brom, and today's encounter may not be different. Looking at the records, Liverpool has not lost a match at Hawthorns since 1981. And in the history of Barclay Premier League era, the Reds have recorded a couple of away victories over West Brom. Now that the Reds have been wounded after Monday's match against Man United, West Brom may not survive their furry.
A member of the West Brom technical crew, Mowbray, has assured the club's fans that despite carrying the underdog toga, West Brom would give its best in this encounter. "We have Liverpool looming large in our faces, but we will give it everything we have got and no one at West Brom will have a defeatist attitude,' said Mowbray.
"We know the quality Liverpool possesses. If we are as expansive as we usually are against the top teams, they will use the space and their quality to hurt us. So, we have to try and get the game plan right against Liverpool.
"When we get the ball, we have to play our game and when they get the ball, we know they are going to push us back, and we know we will have to defend probably better than we did against Sunderland. "We can rise to the heights. We defended very well against Sunderland and we have to show the same level of concentration against Liverpool to give ourselves a chance," he added.