I SWALLOWED 30 WRAPS OF COCAINE – MENTAL HOME WORKER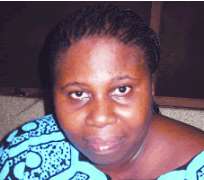 Ifeoma Ethel Okpala
A London-based Nigerian spinster, Ifeoma Ethel Okpala has been apprehended by the National Drug Law Enforcement Agency (NDLEA) at the Murtala Mohammed International Airport (MMIA) Lagos.
She was caught with 1.525kg of substance suspected to be cocaine during screening of passengers on an Arik flight to London. She was found to have ingested 20 wraps of the drugs weighing 300 grammes while 54 wraps weighing 1.225kg was packed and worn by her as a diaper.
The 37-year-old who is a 1997 graduate of Banking and Finance of the Enugu State University of Science and Technology was later placed under observation to excrete the drugs she ingested. She hails from Ezinifite in Anambra State but has been working in London for five years as a support worker in a mental home. The suspect who was promised £5,000 to smuggle the drugs said her driving force was to holiday in the United States.
She however blamed her action on greed. According to her, she earns £2,500 monthly and should have rather been contented with her legitimate income. 'It is difficult to believe that I could be convinced into trafficking drugs. I am ashamed of myself. I do not know what to tell my friends. I wanted to spend my holidays in the United States and also buy some goods for sale in Nigeria. It was not a pleasant experience swallowing the dope. I ingested 30 and threw up 10 so I decided to pack others on my body. I know I  have disappointed my friends' she lamented.
Confirming the arrest, NDLEA Airport Commander Alhaji Hamza Umar described her action as shameful. 'Drug trafficking is a shameful act. It is a criminal offence and those caught are ashamed. First, she has lost some of her rights and in addition, she will be prosecuted' , Hamza stated. The commander also commended female officers of Federal Airports Authority of Nigeria (FAAN) for their cooperation towards the successful arrest.
Investigation revealed that Ifeoma came into the country for a religious meeting but she could not control her greed. When she agreed to smuggle the drugs, her sponsors took the drugs to her hotel room in Lagos. At the hotel, she ingested some of the drugs and packed others on her body before heading for the airport to board her flight.
Reacting to Ifeoma's apprehension, Chairman/Chief Executive of the NDLEA, Ahmadu Giade warned prospective drug couriers on the consequences of such criminal acts. 'Those that are contemplating drug trafficking for whatever reason should also prepare their minds for arrest and prosecution by NDLEA . We shall continue to do our best and protect the country from the activities of drug barons and major drug traffickers' Giade stressed. The suspect will soon be charged to court.