ANARCHY LOOMS – IBM HARUNA, ACF CHAIRMAN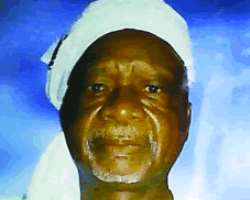 IBM Haruna
Major General I.B.M. Haruna (rtd), the Arewa Consultative Forum, ACF, chairman says the umbrella body is not a political platform that can be manipulated by politicians. He said those accusing him of not supporting zoning for the sake of the North are themselves partisan and are paid by politicians to use the ACF platform to campaign for them.
This he observed is against the ACF constitution which does not recognize aligning with any political groups. The Walin Garkida said the INEC chairman, Professor Attahiru Jega deserves our sympathy and prayers because, according to him, there are other logistic issues that need to be surmounted before a hitch-free election can be guaranteed.
He made it clear that none of the three leading candidates from the North-Generals Ibrahim Babangida, Muhammadu Buhari and Alh Abubakar Atiku- would be allowed to use the ACF as a political platform to gain political advantage .
Give us a general overview of the polity.
Isn't there anything else one could talk about in this country other than politics and you are always talking to non-politicians?
Your last meeting was very clear on some pressing national issues especially zoning…
We were there for Northern issues first. National issues are on a higher level except when it is something more epidemic to the North. If you are expecting a preview of what ACF is going to come out with, I will honestly tell you I don't know.
But you have your personal opinion sir.
I have always expressed them. By now your papers have gotten all my personal opinions of all the issues about rotation, zoning and the rest.
Talking about Northern issues, what are some of these Northern issues that ACF is pursuing?
Well, virtually everything: power, road, electricity, education, commerce and financing development. There are lots of issues but you know we do not have any executive capacity; we only advise and the north is run by nineteen governors, nineteen executive councils, 19 legislatures. So, it is not easy to talk about unanimity. So, these are the problems.
They are also Nigerian problems, the problems of economy, education, environment, unpaid civil servants, unpaid teachers, the police and security services. All have their complaints. Criminality which is much known like kidnapping, ritual killings and the fear of the negative balances of the treasuries and negative budgeting. We are just in so many problems.
We don't know where anything is right, so we talk about them. We also have gender inequality, the youths and generational gap. In fact, the lack of succeeding generation in leadership from the inception of independence till today is a major problem. We cannot see exactly which generation is coming up to date. The old and new are almost in conflict as who had the right to rule. Those who have had opportunities think that they have messed up things and they would be given a second chance because next year is election year so there are all sorts of anxieties and the threat is always there but by the grace of God, we will transcend it but how? We don't know.
Zoning or rotational presidency and threats over marginalization; what is your opinion on all these?
There is no question of allowing Nigeria to disintegrate; the decay or fragmentation does not happen overnight, it grows over time and if you have a country where you have militancy or feelings of self determination and disagreement on equity and justice in the distribution of power and of course, the over dependence on one mono-economic subject, then there is a whole sense of threats of agreeing on how the revenue should be shared.
Some people think they have the right to use public funds in any manner or ways they like. Whereas they budget, they don't spend in accordance with the budget and they have no explanation to anybody. They don't have any programme of development that the people vote them to execute. So, the possibility is always there. You may not break up but you might be in a state of anarchy for twenty years. We have seen that in other places and where there is lack of sustainable economy and development that increases the Gross National Product.
The possibility is not breaking up; it is just this question of uncoordinated, sustainable economic development. At the end of the day, people live because they see that their lives can be improved upon. Their living standard can be enhanced, which means they have a sense of security of their lives, property, their savings in the bank, their investments in industry, manufacturing. But if they don't see these, people will not show any prudence, they can become extravagant with everything even with life. So, the people at the receiving end can also show the mannerisms or attitudes of I-don't-care. I can see that manifesting in most of the behaviours of our people.
Are you saying that by our current attitude, we are on the path of anarchy?
Well, anarchy itself is not just the violent manifestation of a state of insecurity; it is just the state of uncertainty about anything. The order is not stable and people don't trust it. So, from that point of view, one can say that there is a wild form of anarchy. We have a political order, we have the laws, we have the constitution and every such interest group- government and non government.
They have their laws but enforcement; the will to also work in accordance with those laws is not there. You know, once you don't enforce the laws, then they don't exist. Once you don't live in accordance with those laws, then the laws are just decorations in the literature of statutes. Go around, what do you see? Drivers drive anyhow. Three quarters of them are not properly licensed and they don't make use of the road code.
You hear today or tomorrow that twenty people died, a whole family perished because of road accident and you see vehicles plying the road carrying fuel and they drive at any speed on any side of the road and yet, they are carrying inflammables. There are laws. Even in today's times, they say there are laws about child abuse and you see children hawking.
Some people may say the rot did not start today; that it began when some of you were in charge of this country
What did not start today?
Some of these ills we have mentioned
They did not start today. They are only intensified. After all, when one talks about corruption, it was the sin for which the first republic was overthrown. I mean, the first republic that was violently overthrown by the military. And corruption today is at its peak. It has been growing and now has become a monster.
So, where do you belong?
Well, I belong to both sides. I won't be crying out if I was one of the beneficiaries of the corruption syndrome. I can also say I belong to the corrupt regime  by association because I was part of the leadership. But in leadership, you can cry out and in leadership where you have dictatorship, you have no consensus in getting things done.
So, do you have confidence in Jonathan's administration and in his capacity to address some of these ills?
The Jonathan administration is a transient one. The whole country is in a state of transition. So, one cannot join or judge the permanency of its efficiency because everything is being done on a platform of a transition government and the process is supposed to solidify the basis for stable and sustainable continuation of governance and everybody agrees that this is not possible unless we get it right through this transition. There is the possibility and practical acknowledgement of having a free and fair democratic election.
Democratization, I think, is the value we put on the prospect of getting good governance but the foundation of it is what Jonathan's administration has to grapple with. First, you must have a secure environment, a secure environment of peace to be able to register voters. You need the funds, you need an enlightened administrative staff to carry out the administrative designs faithfully. So, that process of registration is very important.
That process of getting the constituencies from the ward upwards properly listed is very important and the whole thing also hinges on the freedom that every bona fide citizen will have to register and not foreigners smuggled in to register with some fictitious names like Michael Tyson, Jack Nicholas and so on. Can we have  registered Nigerians to vote? Will their votes count in the election? And the problem we face without good administration is that we are starting with false numbers.
We were said to be 150 million and if the election numbers in proportion do not fit, there is already a lack of faith in the whole process. Some people are still arguing about their population, how large or how small. First of all you have to trust those numbers before saying that those numbers will count and they must have time during which to verify these numbers and the voting public to ascertain that those who actually have the franchise to vote are creditable living people who are qualified.
Maybe we should talk on this zoning thing. Baring all last minute change, the Peoples Democratic Party (PDP) is going to adopt Jonathan to continue the Yar'Adua/Jonathan ticket. What is your opinion about it?
Well, I am not in PDP. PDP is one party. It is presumptuous to think that because they are very powerful, they must win the election, because that means we have no democracy. The first condition is to accept that it is a competitive environment for all parties who have been registered in accordance with the law of the constitution and the electoral law. So, it is presumptuous to think that PDP is the only party that should win and therefore their candidates must come from a certain geo-political region.
I think that all these business of zoning, which has been brought about because of earlier wrong doings, is a compensation for earlier wrong doings starting with the wrong doing of disqualifying Abiola and the South from enjoying their electoral victory and then the subsequent event that made the headship one of compensation for wrong doings. It is the party that has to sort out its strategy for winning.
But if the PDP insists on Jonathan, will ACF back Jonathan or back out?
No, ACF is not a political party. We have no duty to back anybody. It is not our position to support or not support anybody. Our position will only be to educate Northerners on their rights to vote and to use it. So, whether Jonathan is going to be a candidate and the criteria by which he is going to be a candidate, whether it is to fulfill an eight year- mandate that was given to him and the late Yar'Adua in the party or to fulfill some other goals of giving a candidate from the South-South minority area, an opportunity to be voted for and therefore it will count as the first term in the office and whether they maintain a four year-term for each candidate, it is their policy constraint and plans.
All we know and what we have to accept is that zoning and federal character cannot run on the same thing. Federal character ensures that no particular group, tribe, family or geo-political region, corners all the key political offices to itself.
Now, zoning affects federal character but if you don't zone offices, you can still have federal character. They are two different things. What the constitution provides is that from the top, whoever wins, federal character will manifest itself in the sharing of political offices and opportunities and it is part of our culture. Even in the private sector, we are enjoined to employ people so that you can show that it is a Nigerian institution.
It is a mechanism for building understanding and unity within Nigerians. Zoning, in essence, is different. In ACF, we have all the political parties: PDP, Action Congress of Nigeria (CAN), All Nigeria Peoples Party (ANPP) et cetera. Everybody is a member and where everybody is a member including non politicians, we cannot say we want to go into the family issue of one political party. It is like inviting ACN, ANPP and other parties to sit down in ACF as a license to interfere in the affairs of another party. We cannot say we zone an office whether presidential or state to any particular party because we are not the one organizing things within a party. They have their constitution and we as ACF have our constitution.
Some Arewa youth organizations are accusing your leadership of compromising or for not being at the forefront of campaigning for the retention of zoning?
Well, because some of these youth organizations are not neutral. They are youth organizations of political parties. They are paid to say whatever they like because they want to use the ACF as a vehicle to achieving their own ends. They may understand the issue but they fail to be straightforward. We are not leading political parties by the neck and they cannot lead us by the neck.
That means ACF is in support of Northern governors
(Cuts in) I don't know about supporting Northern Governors' Forum. They are our leaders. They are the ones who make up the Northern states and they are the ones who rule the Northern states.
The last ACF meeting in a way, said that it is for zoning.
I don't know about such ACF meeting. You journalists can report what favours you or what you want to report because some of you are also owned and manipulated by political parties. Not you as a reporter but the paper itself. They are owned by politicians, so they report what is favourable. We cannot counter them because it is not our role. We are not fighting them but what we have explained is exactly what I have explained: the ACF has its own mandate and it is there in the preamble of its constitution.
There is nowhere it says we have to support a candidate or a political strategy for a political party. If anybody says zoning is the same as federal character, we are saying no. Zoning starts ab initio, that is, right from the beginning before you even conceive the application of federal character and that is politics. Who gets what is politics. We are talking about what we need to get in the economy and in our social development. How you do it by your political manifesto determines the number of votes you get from the voters. So, how you do it as a political party is not our issue.
Among the three presidential candidates from the North; Atiku Abubakar, General Ibrahim Badamasi Babangida (IBB) and General Buhari, who is the choice of ACF?
It is not our duty.
What's your assessment of each of them?
It is not my duty. I have the right to a secret ballot. I have only one vote like any other person so they should campaign. They have the right to campaign. In any case, they can't be candidates unless they have the flag of their party. This year is not a dictatorship of one political figure. They are not to dictate to parties or dictate to Nigeria. If there is a conflict between them, we may mediate and if it becomes apparent that there is going to be some conflicts we can resolve, we can negotiate and resolve it.
…Among the three of them?
If they are not all in PDP, then where is the source of their conflict? Even if they are in PDP, they will compete. They should go and compete but they should not use us for their political warfare.
What kind of relationship exists between you and Atiku who is from Adamawa state as far as politics is concerned?
Our relationship is not political, we relate socially. He has assisted in bringing about ACF.  He has supported this materially and spiritually.
Did IBB and Buhari do the same?
All of them. They are all members too and they are not only members, they sit at the highest level of the ACF. We have organizational strata and they are all in the body of patrons of the ACF.
Would ACF advise the North to secede if Jonathan insists on running for the 2011 election?
That's subverting our constitution. ACF will never contemplate that. ACF is to promote peace and unity in the north, peace and unity in Nigeria and that, we believe will be founded on democratic principles and the foundation is our constitution.
It is not in the mandate of ACF. After all, in the fore front, we the soldiers from the North stopped Biafra from going away and the south-south were the first people we liberated from the eastern region. If we were to secede, we would have done that in 1966. So, the politicians cannot think that they will use ACF as a counter force in the Nigeria politics to secede. Secede to where?
I have met some Northerners who said the same thing: that the North fought to liberate the South-South and they have nothing to pay back the south- south in terms of supporting Jonathan.
It is wrong to think that this should lead to war and the North will want to secede. After all, the South-South, politically, were the allies of the Nigerian Peoples Congress (NPC) of the North.
But now…
Now it is the same thing. It is just people who are saying it is not the same because it is PDP. That is why it is a PDP affair. Every party has its coalition. If that is the feeling in the South-South, it is Jonathan's presidency, well they will campaign for it because Jonathan is PDP. They want to convince the people in the South-South to vote for PDP. So, they have to also convince people in the North to vote for a PDP candidate. He is not there as Jonathan as a person but he is there as the candidate carrying the flag of PDP.
Has the other socio cultural groups reached out to the ACF?  Groups such as Ndigbo and Afenifere. Do you have any meeting point where you discuss issues?
No. We don't. You know as families in Nigeria, when you have an issue, you call for a family meeting and you decide where you are going to meet and what you are going to talk about. You cannot be behaving as if you are in a conspiracy to subvert any particular interest group or any political party and as a socio-cultural group, we are looking at the socio-cultural economic developments. Well, it impacts on politics like politics impact on it.
The Senate has just approved N89 billion for Prof Jega to be able to carry out his mandate. What do you think of it?
What I think is that we should have sympathy for Jega. He has an emergency war to conduct. He does not have a source of supplies that he can dictate to. All the materials he is going to use for registration are going to be imported. They have to come from somewhere.
Those people are not ready in the market, waiting for you so they can push up their price and tomorrow you will find that seventy two billion turns out to be hundred billion again. You can go to them and they will say they do not have enough materials to produce these things for you, then you start running helter-skelter and you find that the supplies come in different standards and they don't match. That they are delayed.
Basically, he has a logistic war in his hands.
Remember we were importing some ballot papers from South Africa and they were not numbered and there is the issue of the ballot machines.  There was even the issue of printed voting papers that were not numbered and it nearly called to question the legitimacy of Yar'Adua's election. So, money is a starting point but getting the contract, signed, sealed, delivered is another thing. Then, the logistics of providing the right quantity at the right place so that they are not stolen along the way is another issue. Internal security matters.
So, he is really a general with a battle in his hand. If he does not succeed, election does not succeed and where do we go with democracy? We have to pray for him. We have to pray that Nigerians show goodwill in what we do so that some of these materials don't get missing at the airport or that the trailers are said to have accident or that they get burnt whereas they are somewhere hidden. We wish him luck because this is another watershed in our democratic development.