How Farida Waziri Gave N80million Election Bribe To Secure Victory For Husband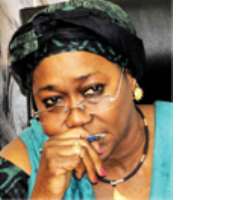 The people of Tanglaweja, Gombe south senatorial Area, were thrown into mournful mood, following the imposition of Ambassador Ajuju Waziri [Farida Waziri's husband], who contested the August 21, 2010 Senatorial bye election. Women, youths and the elderly in Gombe south senatorial area cried foul play on the imposition of Amb Waziri by the People Democratic Party [PDP] and the Chairperson of the Economic and Financial Crimes Commission [EFCC].
Ukpakareports.com checks revealed that the August 21, 2010 senatorial bye Election was marred on irregularities and fraud. Authoritative sources reveal that N80 million was made available by the EFCC Chairperson to facilitate for the rigging of the said election. The candidate, as gathered, does not enjoy favor among the majority of his constituency. He is not popular. And the money was reportedly shared among the resident electoral commissioner and his workers who aided in the rigging ordeal.

Other participants and stakeholders in the said bye elections have aired their disagreement with the manner the election was conducted. Hon. kilyobhs Audu Kere, the senatorial candidate for the Labor party said 'vote buying' was in vogue during the Election and Amb Warizi and the PDP bought the votes. Other voters, women, youths were intimidated at the polling units, and polling units were stationed at traditional rulers palace.
Ambassador Waziri is alleged to have represented his senatorial Area for the past 30 years in the capacity as the constituent Assembly, Ambassadorial position. This is reportedly due to his high connections with the military junta, as a retired Deputy inspector General of police, in addition to his connections in the present Democratic dispensation. And as gathered, his inability to attract development to his senatorial area made him to be rejected by his kinsmen.
Hon. kilyobh Audu called on INEC to cancel the result, as it does not reflect the true choice of the people. In the same vein Lashiru Ibnleke, chairman tangalaweja cpc consultative forum said it is high time for Nigerian government to stop deceiving themselves on a free and fair election. He opined that a free and fair election will be difficult in Nigeria, so long as traditional rulers partake in the PDP rigging of Election.
Lashiru ibnleke said the August 21 senatorial bye election defiled the electoral laws, because voting continued till 6pm on that Day while the police supported the rigging.
He advised Prof. JEGA not to go into 2011 election, because snatching of Ballot boxes will still continue.
|
Article source