Cross River, American Firm Sign $1.7M GIS Contract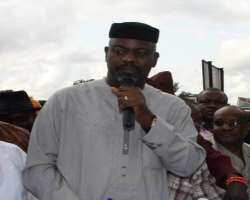 PHOTO: CROSS RIVER STATE GOVERNOR, SENATOR LIYEL IMOKE.

San Francisco, August 28, (THEWILL) - Cross River State Government has signed an agreement for the implementation of the State Geographic Information System (CRGIS) with an American Company.
Valued at $1.7 million, the agreement was signed by Mr. Eddy Ogon, Attorney General and Commissioner for Justice and the Commissioner for Lands and Housing, Engineer Bassey Ika Oqua on behalf of the State Government while Mr. Chiemeke Ngwu, MD/CEO Teqbridge Limited and Frank Richel, Region Manager, International Land System (ILS) Incorporated, USA signed on behalf of the consortium.
Governor Liyel Imoke at the event, said the occasion marked the commencement of the implementation of the GIS by the State Government as it is not only important for ILS because it will impact on the economic development of the state, adding that the system has several components which will contribute adequately to the growth of the State.
Imoke stressed that the system would enable the government impact on the lives of the people as well as create opportunity for government to plan adequately.
The Governor explained that while identifying the best system suited for the state, it was also conscious that the system would deliver programmes envisaged beyond the economic benefits of the state and create opportunities for investors to do business in the state. He added that a lot of business concerns are looking for opportunities to do business in the state and the best government can do is to create a conducive environment because the state has numerous God given assets and therefore sees its implementation as a welcome idea.
He noted that the focus of government is to create access and that is why the project is critical to the realization of its vision which should not be compromised while fast tracking its development programme, stating that though there is now relative peace in South-South geopolitical region, the system will correct the inefficiency identified in record keeping.
The Governor disclosed that the system I will enhance due process as the Government is determined to execute transparent procedure for the award of contracts and hoped it will impact greatly on the lives of the people.
Mr. Chiemeka Ngwu, MD/CEO Teqbridge Limited, described the CRGIS as the first of its kind in Nigeria which will enable the state to gather first hand information and present it the way it is, adding that they took an in-depth study to present its report through a clean process.
According to Ngwu, the bid for the contract was transparently conducted which shows the honesty and sincerity of the government and it was the first of its kind anywhere because it was perfectly conducted, emphasizing that they were proud to be associated with the project in the state.