IT TOOK ME SLEEPLESS NIGHTS TO START THIS JOB – LADY GRADUATE KEKE RIDER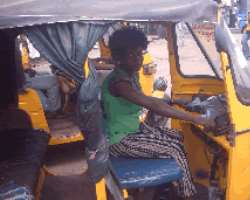 Titi with her tricycle (keke)
The first sight of her, with her tricycle (keke) filled with passengers, will make you pause and wonder why this young beautiful lady chose this type of job? But, don't forget that in a society where job is almost impossible to find, anybody can take to any unimaginable thing to earn a living.
Titi Ojo's case is that of a courageous and determined young lady who knows what she wants and will go the extra mile so long as it is legal to get it. She is a graduate of the Federal Polytechnic Ede, with OND in Computer Science. After her studies, she continued with her further diploma in Ibadan Polytechnic, Oyo State but later dropped out due to financial difficulties.
Ojo told Saturday Sun that coping in Ibadan during her HND was very difficult because her parents couldn't afford her school fees and instead of her taking to odd and unethical means of survival, she decided to drop out. 'Coping during my HND wasn't easy at all. I come from a family of six with me as the first child and my parents are not rich. So, I found it difficult to cope because even when my school fee was paid, feeding and buying textbooks was very difficult. Instead of me misbehaving, I left the school and came back home, although the decision was a hard one but I had to come back.'
Leaving school marked the beginning of her new phase of life. She is now responsible for herself and also has to contribute to the family, to lessen the burden on her parents. 'Leaving school was the most difficult decision I have ever taken. So, when I came back home, I started almost immediately to search for job, so that the next year, I will go back to school. But, I didn't find any with a reasonable pay. I worked where I was paid N3000 per month and by the end of month, I will spend almost half of the money on transport and the remaining one, I will give my parents in support of my younger ones in school.'
She realized that with the meagre job, she might not actualize the dream of going back to school. So, she started job-hunting again until she came into keke business through a friend.
'When I saw that, if I continue with the jobs that pay me little or nothing, I might not afford to go back to school, I started looking for a job that will fetch me more income. In fact, it gave me sleepless nights before I found this job. I was told of it by a friend in the business and he wasn't even telling me to join. But, I picked interest when he told me how much he goes home with everyday. I did a fast calculation and saw that the job really pays.'
You may wonder how much she really makes that made her defy the barrier of sex in the job almost exclusively for men. Ojo earns more than many office workers in a month. She makes a daily average income of N3000, gives N1200 to the owner of the bike and goes home with about N1800. That is to say that, she earns roughly N51,000 every month and even more in some months because, she only turns in N1200 on daily basis and some days, she makes more than N3000. 'Most times, I make N3000 in a day, turn in N1200 and go home with N1800 but the day work will be very good, I make more than that.'
On How would her parents feel to hear that their diploma graduate pretty daughter is now a keke rider in Lagos? She had the same fear and therefore did not inform them of his job. But when they found out about it, they were very angry with her. Today, she enjoys their support especially when many people started commending her courage even before her parents and that changed their mind that their daughter isn't really doing something bad or odd.
Titi's plan to continue her studies has not changed at all. 'By God's grace next year, I will be going back to school because that is even why I started this business and I am making plans to buy my own keke. But, when I leave for school, I will not leave this business because it brings me regular income and I will need it to sustain myself', she said.
Has Titi any man in her life. If so how does the man feel about her job? She just smiled in response and said that she did not even intimate him about the job. 'Yes, I have one but he is not around. He is his serving (NYSC). I have not told him because I know he will not like it. But, I will tell him soon because I do not want him to hear it from someone else or even read it on the paper. I hope I will convince him, after all, it is not a permanent thing.'
She advised youths especially the graduates to be creative and dedicated in whatever they are doing. 'My advice to the youths especially the graduates is to be very creative. Not all graduates must work in a bank or get white-collar job. The only reason for going to school is to develop the creative ability in us. In fact, this actually distinguishes a graduate from others. You don't have to stay five or six years at home searching for job. Wear your thinking cap, think of something to do, it doesn't really matter what you do, so far as it is legal.
'The only thing is for you to be wherever you find yourself in a unique way and people will know that you are different. Maybe, along the line you will still go back to that you really what to do.'
The Secretary of Keke Riders Union - Badejo Adesulewa-Iyanoba-Waterside unit, where Titi works gave a good report of the lady with a difference. He said: 'Titi is a very strong and devoted lady. While some men here will work and turn in by 3:00pm and say they are tired, Titi keeps working till 6:00pm. She knows what she wants and doesn't waste her time with idle and unprofitable things.'