MILITARY CHIC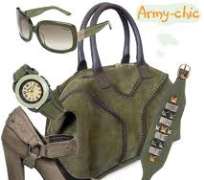 Military fashion is now more eye-catching than ever. Now, it is not just leather that is worked into regimentally neat military line styles. Knitwear, coats, biker jackets, velvet evening coats, even dresses can show military styling.
Even shoes, bags and jewellery are experiencing the novelty military touch. All martial inspired styles are fashionable.
Denim, moleskin and corduroy in particular all make a garment with a very wearable look when constructed as a military piece.
Even make-up and hair embrace a military spirit too. A recent resurgence of military-inspired fashion necessitates military-inspired make-up.To build a look around fashion's military trend, try deep olive, army green or khaki eye shadows accented with shimming gold (or a light beige-y sand shade that calls to mind the Sahara desert). Go light on the liner and generous on fresh-faced cheek colour (think sheer peach) and glossy nude lips.
Military-inspired fashion remains in full force this season.