EXIT OF A DREADED ENIGMA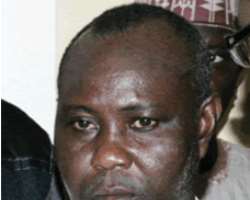 A reporter at a press briefing by the Rivers State Commissioner of Police, Mr. Suleiman Abba, on the incident that led to his gruesome death likened him to the proverbial cat with nine lives, except that this time, the last of the lives may have been snuffed out.
The word, 'may' was deliberately used because drawing from experience, it is within the bounds of probability that dreaded cult and militant leader, Soboma George, might have cheated death once again.
Even the police boss gave a cautious confirmation of the scary news that broke after the previous evening's shooting incident suspected to have been cult-related.
'One area that I can convince you is that members of his immediate family, in particular, Chief Ediele George, has come forward to say personally to the police that he has been reliably informed and he believes that his brother has been killed. But we will be glad to hear that he has not died'.
The cautious statement is understandable. On two previous publicly confirmed occasions, Soboma George had pulled a fast one on death.
In 2005, the former Second-in-Command to Ateke Tom of the Niger Delta Vigilante had found himself behind the bars of Port Harcourt Prisons in connection with a murder charge that his followers insisted was trumped up to keep him out of circulation after parting ways with his erstwhile boss. When his Icelanders gang members sensed alleged official moves to send him to the gallows, they organised a successful jailbreak and the man escaped.
About two years later, Soboma, as he is popularly known, sneaked into town and lay low. Somehow, he had a brush with the law over an alleged traffic offence in Port Harcourt. As it turned out, the policemen, who arrested him, were oblivious of the true identity of the seemingly gentile suspect they dragged to the Central Police Station.
Barely 24 hours later, an armed gang invaded the police station and the nearby State CID in the capital city and freed 125 detainees, including Soboma George.
Briefing journalists later on the incident, the Police Commissioner at the time, Mr. Felix Ogbaudu, suspected that while in detention, the local militia leader might have made contacts with his group, resulting in the siege that lasted 'close to four hours.'
As Mr. Ogbaudu revealed, the militants, who came via one of the waterfronts in Port Harcourt Main Town, shot sporadically along the streets, during which a girl was felled and several other residents injured.
The police boss gave a graphic picture of the commando-style invasion that shook the city to its roots.
'After they had released the man, they withdrew through the waterfront and that was how they came in any case. By 8p.m or a little bit earlier than that, it was all over. They had withdrawn and we got some anonymous calls that they had freed their man and that they were withdrawing and they actually withdrew.'
Ogbaudu literally confessed that his men had problem tackling the invaders, who escaped through the creeks because, 'the militants have their strength in the creeks and the waters'.
From then, Soboma George became an additional nightmare of security and law enforcement agents in the state. His fame in militancy heightened and he soon became an enigma of sorts that his name could only be mentioned in cautious whispers because the young man nearby could be one of his ardent followers. His boys were known for riding in long convoy of sleek Honda cars, often neatly dressed but unsparingly menacing.
Bad enough, security operatives had difficulties tracing him, because apart from his famed penchant for always changing location, his picture was as rare as a good breath in Port Harcourt's waterfront slums. As a matter of fact, less than a handful outside his immediate family and his cult group could tell much about this top-rate militant leader.
Perhaps, what he had working positively for him was his calm mien and unassuming disposition. As a young man, who once lived near him said during the dark days of militancy, 'Soboma can walk past you without being noticed because he was always simply dressed.'
On Thursday, August 16, 2007, the military got Soboma's many foes jubilating when, after it raided one of his suspected hideouts, announced that the local warlord might have been killed.
The military Joint Task Force (JTF) had received a tip-off that Soboma was hiding somewhere in a hotel located at Reclamation Road in the capital city and carried out a raid to smoke him out.
The army spokesman, Major Sagir Musa, said in a published interview in Daily Sun shortly after the operation: 'We planned and executed an operation geared toward arresting Soboma George and his followers and capture their arms and ammunitions. At about 4.30 am, we cordoned off, raided and searched his hideout and in the process of doing that, members of the gang opened fire at our soldiers and we retaliated.
'In the process, Soboma George was suspected to have been killed and some of his members arrested.'
Not too long after, the authorities realised that Soboma George managed a successful escape through the hotel's ceiling!
About six months later, precisely in February 2008, there was a comic dimension to the Soboma saga. Police detectives had arrested a suspect in a failed N3 million blackmail bid, who introduced himself to his victim as Soboma George. The detectives later found out that they had a fake mould of the cult leader they wanted badly as further investigation revealed that the suspect was one Williams who wanted to dupe his 70-year-old uncle that saw him through the university.
The real Soboma George was later involved in two cult-related violence in parts of the State that claimed about 12 lives in August of the same year. The majority of the casualties were recorded in a clash between Soboma's group and his arch rival at the time, Farah Dagogo, in the Buguma axis.
At a stage of the militancy that later spread across most of the Niger Delta region, Soboma, who had joined the leadership of the Movement for the Emancipation of Niger Delta (MEND), mended fences with his former boss, Ateke Tom but still remained at the background despite his high placement in the struggle.
In all the recorded clashes and raids, he remained unreachable by the traditionally long arms of the law until the amnesty package was brokered and approved by the late President Umar Yar'Adua.
Despite the presidential pardon that enabled erstwhile militant leaders to walk and talk freely, the enigmatic Kalabari-born repentant warlord kept a low profile.
As it turned out, the once-dreaded top fighter was mowed down by unknown gunmen in the evening of Tuesday, August 24, this year, shortly after a local football engagement in the Borokiri area of Port Harcourt.
Expectedly, his followers reacted by firing gun shots indiscriminately for several hours in various parts of old Port Harcourt main town until a combined team of the police and military personnel moved in to restore normalcy.
The Police Commissioner, Mr. Abba, who suspected, 'a gang-related clash,' has urged members of the public to, 'continue with their businesses and their lawful activities as all what is necessary is being done to make sure that hoodlums are arrested and dealt with appropriately'.
However, uneasy calm reigns in the city and the suburbs, as residents fear a reprisal attack by Soboma's group.
Besides, not a few still suspect that Soboma George might spring yet another surprise as he did in time past, the confirmation from his family notwithstanding. Many residents have openly stated that until they see the man's body interred, it would be difficult to believe that the cat with nine lives has actually lost it all.