MINDGAME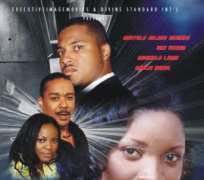 RELEASE DATE: 2010
ORIGIN: Nigeria/Usa/Ghana
GENRE: Drama
WRITTEN BY: Darlene Benson-Cobham
SCREENPLAY: Darlene Benson-Cobham, Margie Benson-Ikem
DIRECTED BY: John Uche
PRODUCED BY: Samuel Ameyaw/John Uche
STARRING: Omotola Jolade Ekeinde (Betty), Van Vicker (Richie), Reginald Lubin(Patrick), Carlin Josephs (Linda)
There has been a lot of buzz around the movie Mind Game; a lot of people have been waiting to see this movie that finally made it to the general population in August of 2010. What is Mind Game about? It features, Omotola Ekehinde as Betty, Van Vicker (Richie), Reginald Lubin (Patrick), Carlin Josephs (Linda) among others and it starts with an anonymous card sent to Richie, but he eventually goes out with Betty on a date soon after. Richie asks Betty to marry him. Richie is warned by his friend Charlie (Henry Nwosu) to try a different tactic on Betty because he knows Richie too well. At the office Patrick (Reginald Lubin) wants to go out on a date with Betty and she refuses. Betty and Richie get married.
I struggled with the beginning of Mind Game a story by Darlene Cobham also screen played by her in conjunction with Margie Ikem and directed by John Uche because it lacks some details and we are expected to fill in the gaps. Mind Game a movie produced by Samuel Ameyow and John Uche quickly redeems itself starting from the night of the wedding, Richie rolls over and goes to sleep on Betty and would not touch his new wife and that abandonment of his marital and manly duty continues throughout the movie. One day Betty finds Richie and Charlie who is Linda's boyfriend in a compromising position and for the first time Betty realizes that her husband might be gay. Mind Game is skillfully done in a way that it is not offensive to the viewers; Darlene Coham and Margie Ikem who screen played this movie took into consideration other people's feelings by not been too graphic or over the top in what they show and still be able to get the story across and maintain the artistic integrity of Mind Game. Richie confesses to his wife that he is gay and that he was born like that. My favorite quote: "That is a lie, lie from the pit of hell"_Betty to Richie. Betty believes God can heal her husband only if he believes.
Technically speaking Mind Game has a great picture and audio quality. Editing was nicely done by John Uche. The chosen locations add a touch of class to Mind Game, a movie directed by John Uche.One of the scenes involving a visit by Richie (Van Vicker) to his mother, Aunt Inlaw and his wife is heartbreaking in what he said and not said about his world. You can see the fear in his eyes, the shame and you can almost feel the heart ache and you can't but ask yourself why should he carry that much weight on his back just because of something he might have been born with? My favorite quote: "Say it Richie I will beat the black off you"____Richie's mother played by Charmaine Turpin to Richie when she asks him if he was gay. Richie's mother was passionate and convincing in her role as a confused mother dealing with her son's sexual orientation. All characters played their roles extremely well. I like the performance of Van Vicker in Mind Game, he was passionate, convincing and moving especially when he tells his mother he loves her and makes his reasons known as to why he had "stayed in the closet" for so long. Scared of been judged and hated for his sexual orientation.
Something interesting and shocking happened to the story in Mind Game that will bring a sigh of relief to the audience and makes clear the title of this movie. Not to be the spoiler I say watch the interesting conclusion of Mind Game.
Verdict: Mind Game touches an important topic in American society and sometime not so popular subject matter in African communities; homosexuality. The fight for gay and marriage rights goes on in The United States of America. Is homosexuality a disease? Is it something that can be cured like some infections or is it something that happens in nature? Can you pray and make it go away as Betty believes in Mind Game? What about the Holy Bible and its teachings? What if it is divine by design? What if? As we can see we have more questions than answers. Mind Game looks into all these questions and concludes that your answers depend on who you ask. One thing is clear regardless of what we believe is the cause of homosexuality, all human being regardless of sexual orientation deserves equal rights, respect and love. We can still afford to give all those without compromising our personal or religious believes. As a film critic with a medical background I can tell you this much homosexual tendencies exist in animals too. Now what about that food for thought? I applaud the filmmakers of Mind Game for been bold enough to grab the bull by the horn by confronting this unpopular subject matter. There is no reason to recommend anything less than a BUY IT for a full story that is not fragmented into several parts.