Empress Njamah Finally Speaks On Timaya: He Is Obsessed With Me.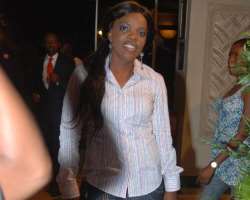 Empress Njamah just recently spoke about the last year breakdown of her affair with singer Timaya – addressing all the accusations by Timaya, his sister and producer/friend K Solo. She say:
I will first correct that word, Love. I don't think he is in love with me. I know he is obsessed with me. Anyone that is in love will not do the things he has been doing.
You know what obsession means? He is obsessed with me.
And talking about a second chance, you know sometimes you get into some wrong situations for Christ to actually elevate you. Everything can't be rosy. Without events, there won't be history. People make mistakes, but the most important thing is to correct the mistakes. I'm correcting my mistakes and that is the best I can say. I won't go to the papers and start saying stuff that his sisters said.
This time and age, you want to tarnish someone's image and then you just go to the press and start talking rubbish. I still have the papers, talking about my diabolical approach to issues, talking about me caging their brother, talking about me having charms in my bag and then you went to my church and my pastor asked you to bring sponge.
You know you could go free doing what you want to do, but don' forget that God lives. You probably might not get your punishment now but, you know that what they do, artists. It's easy for someone to go to the papers and say bullshit but the most important thing is that people know me.
I have friends who stood by me when everything happened. I know the people, I have musicians, many of his friends, they know the truth, I know the truth. I will never go to the press and talk rubbish. I had been in the industry long before he even thought of raising a key in music. I know how it's been. I always ask God to help me in anything I do. I just don't make a move and regret it later…..