Three female members of NANTAP die in Lagos auto crash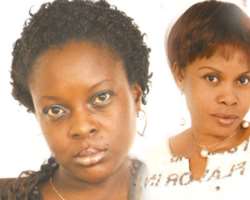 The Lagos State Chapter of the National Association of Nigerian Theatre Arts Practitioners (NANTAP) was thrown into mourning as three of its members perished in a car accident that occurred in Lagos on Sunday, August 22, 2010.
The deceased, namely, Miss. Joju Adeduro, Miss. Kathryn David, and Miss Getrude Anyichie were returning from an event in the morning when the vehicle conveying them had a head-on collision with a speeding Toyota Camry (number withheld).
None of the three ladies survived the accident, while the driver of their vehicle and another passenger suffered injuries.
Both Joju Adeduro and Kathryn David were said to have been very active members of the association. They were actually fully involved in the production of Lagos NANTAP's first movie titled Labalaba Nse Bi Eye, while Getrude Anichie distinguished herself as an actress before her death.
According to the Chairman of the state chapter of NANTAP, Mr. Mufu Onifade, burial arrangements and a special gathering in honour of the departed will take place soon.