Potomac,Maryland:Prince Audu,Orji Kalu on rampage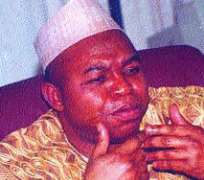 Until recently Potomac , Maryland (20854 - 20859) was known for its very affluent and highly-educated residents. Ranked seventh on   the   list of top-earning American towns for 2008, by CNNmoney.com. Its annual crime rate is 0.71 per 1,000 residents. But in the last two months, two former Nigerian governors, who acquired properties during their tenure in office, at the posh neighborhood have drawn undue, but negative attention to Potomac . First, it was Prince Abubakar Audu, whose wife, Aisha took a protective order against him, barring him from visiting or contacting her and their children;after the former governor had   unleashed mayhem on them in their Glen road residence in Potomac , Maryland .
The full text of the order, read: 1.The respondent (Prince Abubakar Audu) shall not abuse, threaten to abuse,and/or harass Aisha Audu.
2. The respondent shall not contact (in person , by telephone,in writing or by any other means) or attempt to contact Aisha Audu.
3.The respondent shall not enter the residence of Aisha Audu, at 12301 Glen Rd , Potomac MD,20854. (Residence include yard, grounds,outbuildings, and common areas surrounding the dwelling)
4. That the respondent shall vacate the home immediately(home includes yard, grounds,outbuildings, and commom areas surrounding the building) at the 12301 Glen Road , Potomac , MD 20854 .
5. That custody of Abubakar Suleiman Audu(Jnr) and Shezali Mohd Audu is awarded to Aisha Audu.
Just as the residents of the serene town were settling down to normalcy, Orji Uzo Kalu, the former governor of Abia state, came into town and two days later, his Potomac home became a crime scene, when Masi Chinwe, a lady alleged to be his mistress died mysteriously. Thus far two different versions of the account of what transpired in Orji Kalu home has emerged.
A version from the deceased family, read: 'Chinwe met OJ (Orji Kalu) sometime early June at the store where she worked as a fragrance model. He came in to make some purchase at her stand and left a generous tip of 300 dollars to her. He did not forget any cologne at the store'.
'At this point they probably exchanged numbers but she wasn't aware of who he was. They spoke on phone several times but never met until after a few days later when he sent her a cheque through his aide/driver who came and dropped it off at her apartment. She came to Nigeria on the 30th of June and did not see OJ but they did speak'. 'The reason they didn't see was because he had wanted her to spend just a week with her relatives and then join him in Lagos to go to Abuja and then his hometown but she also complained to her friends and family that she found him a bit too controlling! (She used this word specifically). She didn't see him all through her stay'! 'She left Nigeria last week Tuesday (same day OJ claimed that she called to return his perfume). She spoke with him though after she arrived at the US and they agreed to see on Thursday at his residence in Potomac .  On that fateful day, she spoke several times with a close relative on the West Coast and set out to meet with him for dinner at his residence. She arrived there at about 9pm ( Maryland time) and checked in with her relative on the West coast. The conversation lasted a few minutes and her relative also spoke with OJ. She described her conversation with him as being somewhat cold and even a bit brusque. He handed the phone back to Chinwe and while the deceased continued to exchange pleasantries, OJ said to her to wrap up the call and speak later with her relative'.
'At about 3.30am Maryland time, the police called the deceased's relative on the West coast to pronounce her (Chinwe) dead and make inquiries as to the last time they had spoken. They told the relative that OJ had called 911 after he claimed that he was lying down watching TV while Chinwe was in a separate bedroom. He said he heard her call for help and he got up to see her trying to come down the staircase. Halfway down, she fell down the rest of the flight of stairs and he called 911. There was no one else at the residence to corroborate this story and this is the statement he gave the police. So far the autopsy is still pending but the deceased's home was searched for any traces of medication she might have been taking for any  ailments or sicknesses. Nothing of significance was found. The detective in charge Deena Mackie was at the scene and also took statements from OJ and led the search in her apartment'. 'Chinwe was a robust lady who was full of life and joy. Always laughing and had a big heart. She would be missed dearly.'