MY DAD, TOO DISCIPLINED TO SLEEP WITH PLAYERS – SAYS COACH ADAT'S DAUGHTER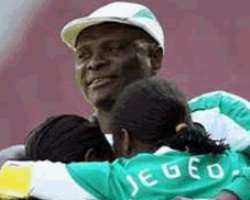 Egan
Miss Egan, daughter of silver-winning Falconets' Chief Coach, Egan Adat, has said that her father successfully led the Nigerian Under-20 Women's World Cup team to the final of the FIFA event in Germany because he's a disciplinarian, who does not condone any nonsense.
While in a chat with Daily Sunsports during the reception organised for the Falconets by the First Lady, Dame Patience Jonathan at the Aso Rock Villa in Abuja recently, the young lady, who bears the same name with her father, said her dad would be the last man to sleep with his players. Excerpts:
How will you describe your father?
The man Egan Adat is a very humble person, a very strict disciplinarian, who is also God fearing. He does not gamble with his business because he would always want to write his name in gold. Above all, he is a wonderful father.
How does his feat at the 2010 Women's World Cup in Germany make you feel?
I feel honoured, I feel humbled, I feel elated and I feel that God has really touched my family. I feel it is the time God has decided to unravel his destiny, because my father started playing football way back in 1978.
I was born in 1980 and I have seen him suffering since then, but remaining steadfast and focused. He is a disciplinarian, and as you know, the world does not like people who are truthful. It took somebody like James Peters, the technical assistant of the Nigeria Football Federation (NFF) to bring him out to come and form the silver-winning team.
When my father came in the picture, as you know, there was a lot of politics in our football then. Some people would want their sisters to play in the national team even when they cannot play, but my father stood his ground and insisted on selecting the best legs.
The team was abandoned in the hotel by the authorities in Abuja for about six months, but as it is written in the Bible, those who humble themselves will be elevated. So, I feel it is God's time to reveal the stuff my father is made of.
How was his life like as a coach in Cross River?
My father is not a rich man, but he is comfortable enough to take care of his family of eight children. He has two sets of twins; three of us are university graduates already, while the others are still in school. We have had the best of education.
He is a disciplinarian. In those days we used to take cover whenever he was coming back from work. Then we thought he was punishing us, but it has really helped us in the course of our lives. He kept telling me when I was growing up that I was his first blood and that anything I did was what my younger ones would do. He would add: 'I don't have money, but I have a name.' So, I lived with that in my memory and vowed that I must be careful with my actions so that I would not put my father's name to shame.
Today he is being celebrated, but he was earlier abandoned with his girls. Would you say that today's celebration has made up for the maltreatment?
I believe in destiny. When I used to visit him in the hotel, I would insist: 'daddy, you have to resign and leave this job. How can they be paying a family man N3,000 a week?' But he would reply: 'My daughter, you have to learn to be patient because with these girls and their commitment, we are going to bring results.'
But you see, we Nigerians will never appreciate anything if it does not bring result. Nigerians will leave you to suffer, but when you come with success, everybody will celebrate with you. I give God the glory.
Do you know football very well?
I know much in football, but my dad wouldn't allow me play the game in my growing days because in their days, football was not paying ones bills and players were not celebrated. Again, I was his first child, so he wanted me to concentrate on my education and make something out of it. He would only allow his male children to play the game and one of them is playing football now.
What is your advice to the government now?
Our football administrators should stop the politics they play with the game. In team selection, they should always allow the best legs to make the team. Favouritism in team selection has been the bane of Nigerian football. The Super Eagles failed in South Africa 2010 World Cup simply because the 'chairman' for instance, wanted his brother or cousin and his friend's relatives to make the squad even when it was obvious that they could not play.
Those in authority tried to force my dad to adopt that nonsense when he was asked to handle the Falconets, but he told them that he was ready to leave the job if they would not allow him free hands to handle the team.
Our football authorities should drop the politics of man-know-man because the job and its glory are for the nation and not for one man. Today, so many people do not know the names of the girls that won silver in Germany, what they know is that Nigeria came second at the women's Under-20 World Cup. It was Nigeria that failed in South Africa 2010 and not an individual player. So they should stop that politics of man-know-man.
We have sound coaches in the country, my father is just one of them. You don't have to go and bring one Lagerback from abroad to come and take us back again.
Maybe my father was brought in to come and fail with all the frustration he faced, but he rather succeeded because he knew what he owed the nation if he had failed. He was in Germany to protect his name, that of his family and the country's. It's unlike La.