MASSES TO OWN HOUSES IN ABUJA – FCT MINISTER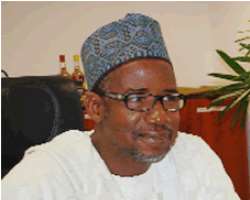 FCT minister, Bala
The Minister of State, Federal Capital Territory (FCT), Navy Capt. Caleb Olubolade (retd) has assured that every Nigerian interested in owning houses in the FCT would be treated equally in the allocation of land in the capital city.
He disclosed this while addressing newsmen in Ado-Ekiti at a media chat organized by some youths under the aegis of Ekiti Torch Bearers (ETB).
Olubolade, who was redeployed to the FCT Ministry from the Special Duties, disclosed that President Goodluck Jonathan-led administration was determined to implement to the letter, a design in the FCT that would allow the masses own houses in Abuja.
He assured that there would no longer be discrimination against the down trodden in the allocation of land in the capital city, disclosing that the goal of the Minister, was to rectify the lopsidedness in allocation of land and correct the perception of the people that only the affluent could own houses in the capital city.
In his words: 'The dream of Mr. President, Dr.  Goodluck Ebele Jonathan is to design  a master-plan for Abuja where the poor and the rich Nigerians can own lands and buildings in Abuja. Though, it may be difficult for the poor people to have lands in some areas, but we are looking for a way of creating alternative for the middle and lower class to own houses in FCT.'
Speaking on his redeployment to the FCT Ministry, the former military administrator of Bayelsa State said he was not in any way rattled by the new development. He said he was ready to serve the people in any capacity in as much as it's all about serving the nation.
'The word is redeployment; and as I understand it, the President has the prerogative to shift any minister to any position to suit his administration. So, I'm not rattled and I cannot be rattled. As long as I am a minister in his cabinet, I will take any position that's given to me.  And if the motive is to serve, I am ready to serve in any capacity,' Olubolade said.
In his comment on rising unemployment rate in the nation, the minister said turning out fresh graduates every year without jobs was a great concern to the government. He said: 'When I was in Special Duties, I had the task of monitoring all Federal Government projects and carrying out the evaluation of the same. While doing this, I was also insisting that the contractors who got contracts running into billions of naira should employ our graduates. I was urging them to do so because they have so much money which they can still utilise to employ graduates.
' In my handover note to the Special Duties minister, I urged him to continue with that crusade. I think this would bring a great relief to the unemployed in the country. It would be senseless for us to be bringing foreigners to do jobs Nigerians can do. I strongly believe I will do same in the FCT to employ more Nigerians and enforce contractors who got contracts from the Federal Government to take them. Luckily, there is an enabling law that will assist us in achieving that. What happened in the past was that nobody had cared and bothered to enforce it.'