MORE TROUBLE FOR COUPLE OVER HOUSEHELP'S DEATH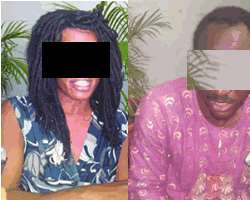 The couple
A Lagos couple who allegedly tortured one of their househelps to death, are now living in fears, as another one, who is said to be in critical condition collapsed at the weekend.
The Elochukwus (other names withheld) are being interrogated at the State Criminal Investigation Department (SCID) Panti, Yaba, Lagos, for allegedly killing the victim, Sunny Oriaku.
Their two househelps who were alleged to be in chains, were also rescued by the police. Daily Sun gathered that Emmanuel collapsed at the weekend. The couple, who thought the boy would give up the ghost, blamed each other for their travails. The man, who earlier denied torturing the deceased, later contradicted himself when he saw Emmanuel being revived by some police detectives interrogating them.
Elochukwu explained that he had been warning his wife not to maltreat her house- helps, but to treat them as their own children. 'See what she has caused me now. When I was telling her to treat the children like ours, she did not listen to me. If this boy dies now, it is double wahala for us,' he lamented.
The 38-year-old man, from Anambra State said: 'On several occasions, I saw the househelps being starved as punishment. I usually cautioned my wife and went to the kitchen to prepare food for them. God knows that I was handicapped in this matter, as I was not always at home.' His wife, who seemed to be unrepentant, warned him to be a man as statements by Emmanuel and Ebuka had already indicted them as having tortured Oriaku to death.
'Dear, all these confessions and allegations you are leveling against me are belated. Have you forgotten that two of us are being held over the death of Oriaku? So, stop being funny and face the challenge as a man.'
'As far as this matter is concerned, I am innocent. My husband is even innocent but I am surprised that he is blaming me for the sin I did not commit,' she said.
On whether she had the habit of beating up the deceased, she said: 'There is an adage which says, 'spare the rod and spoil the child'. I beat my househelps as I would to my children. Are they not under my care,' she queried. Ebuka had earlier given account of how 14-year-old Oriaku was chained in the toilet for over four days, an act which resulted in his death. He disclosed that Oriaku died without tasting any food. 'As he was dying, he begged for food but our madam told him to die. She said if he died, she would compensate the family by paying a token of N200,000.'
'We were three househelps. We were suffering the same fate but Oriaku was unlucky. Madam had the habit of starving us for many days. She chained us in the toilet for many days.' He disclosed that on the day Oriaku died, his madam had accused Emmanuel of stealing fish from the pot of soup, but later found out that it was Oriaku who stole it. 'As I am sitting before you, I may die soon. I had been in chains for five days alongside Oriaku,' Emmanuel said.
He narrated how they were denied food and water for days, which made them to drink their urine. The couple had allegedly subjected them to serious torture which he said, made him to report the matter at the Okota police station. 'The police asked them to sign an undertaking that they would not torture us again, but few days after, they started torturing us again,' he said.
The Lagos State police spokesman, Mr. Frank Mba, said the couple would be charged to court after investigation.