PRESIDENCY ORDERS NFF ELECTIONS TO HOLD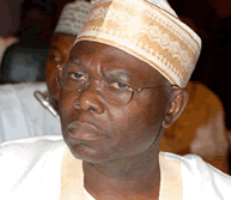 Isa Bio
As the dust on the Nigeria Football Federation (NFF) elections has settled, feelers from the Presidency and the cabal running Nigerian football indicate that the marketing consultant, Shehu Dikko, is likely to emerge the next president of the NFF.
The youthful Zaria-born marketer was chosen as a consensus candidate between the two factions that are struggling for the sole of the NFF. The failure of either of the factions to have its candidate installed made them to shift ground by picking a neutral person, so as not to stall the elections
Presidential sources told Daily Sunsport that the NSC, through the Minister of Sports, Alhaji Isa Bio, made frantic efforts to stop the elections but could not convince President Goodluck Jonathan on the need for postponement
Sources said that Prsident Jonathan ordered the elections to go ahead and admonished the minister to go and ensure that the elections were credible and that the best candidate emerges. Incumbent President, Alhaji Aminu Maigari, who was in the forefront of winning the election was jettisoned at the last moment at the insistence of the cabal who was not comfortable with his mien and romance with the NSC. That, however, is not saying that Maigari is completly out of the race as he has the Sani Lulu campaign merchinery working for him.
The only thing stopping the Dikko from the presidency now seemed to be on how well the cabals were able to sell the young man to the electorate most of whom feel that he is too inexperienced to carry the burden of Nigerian football on his lean shoulders.
Front runners for the race such as Sani Toro, Fan Ndubuoke, Tijjani Yusuf, Lumumba Adeh and Obaseki Oyuki, however, are still fighting on all fronts to ensure that they clinch the top job and have teamed up to fight the cabal.