IBB, ATIKU'S GAMEPLAN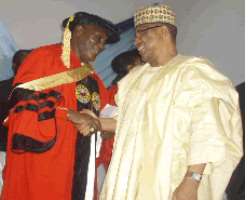 Former Military President, Gen. Ibrahim Babandiga and former Vice President, Alhaji Atiku Abubakar at a public lecture organized by UNIMAID Alumni Association, Adamawa State Branch, to celebrate its former Vice Chancellor, Prof. Jibril Aminu at 71 in Yola last Wednesday.
Former Vice President Atiku Abubakar has said General Ibrahim Babangida (IBB) and himself are working together for the unity, stability and development of the country, adding that they are prepared to make necessary sacrifices in the service of their people.
He said no sacrifice would be too much for them to make in the service of their people and the unity of Nigeria. He made this statement in Yola, Adamawa State yesterday at a public lecture held in honour of Senator Jibril Aminu to mark his 71st birthday.
Gen. Babangida, who was the chairman on the occasion, also recommended the close relationship between him and former Vice President Atiku Abubakar to other Nigerian politicians, saying that politics should not create enmity among them. Atiku, who paid tributes to Gen. Babangida at the event, said their relationship dates back to the 1970s.
'What many Nigerians don't know is that I've been friends with General Babangida more than 10 years before I met the late Major-General Shehu Yar'Adua,' he said.
According to him, their relationship had been fostered by the need for Nigerian leaders to close ranks and focus on the challenges facing the country. 'We have to work together to solve the problems facing us as a nation and making Nigeria a prosperous country for the benefit of our people.
'The challenges facing the country are immense and there is an urgent need for the Nigerian political elite to work together and reposition the country for the benefit of all Nigerians,' he said. Speaking on Prof. Aminu, who Atiku referred to as his elder brother, the former vice president said the Senator had made immense contributions to the development of Nigeria and deserved to continue as a Senator until he becomes the longest serving Senator in Nigerian's history.
In his remarks, Senator Aminu said he admired two attributes in Atiku. The first was what he called Atiku's doggedness. 'If Atiku wants something done, he would go to whoever has the key to that thing regardless of how lowly placed the person is. Not all of us politicians can do this,' he said. Secondly, he described Atiku as a party organiser. He said he had witnessed Atiku organise the Peoples Democratic Party (PDP) and other parties and hoped that his return to the PDP would help make the ruling party better.
'Atiku is fully back in PDP, blood and flesh. I welcome it,' he said.
Commenting on the controversy over a waiver for the former vice president to contest the party's presidential primaries for the 2011 polls, Aminu said he supports Atiku on the matter because he is from Adamawa State.
He queried the discriminatory granting of waivers by the PDP, saying that there was no reason why the ruling party should favour some aspirants to the detriment of Atiku.
'Is it because he is from Adamawa State,' he queried, adding that Adamawa deserved to be treated with respect and dignity internally and externally.