The Chinese (20-kilos) Big Baby, Engages Chines Doctors In a Puzzle.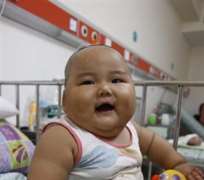 BEIJING , At the age of ten months, a Chinese baby who weighs 20 kilograms engages Chinese physicians with a puzzle.
The doctors in the central Chinese Changsha could not explain the enormous weight of the baby, even though the big baby is in good health, the news agency, "China News Service" reported on Tuesday. The parents of the media with their "Michelin" baby baptized child went to the hospital with their offspring because he had fever. The photo of the small ripple shows a happy smiling , fat baby with a toy in his hand.
Although there was no medical explanation for the obesity of the child, but it was reflected against the growing problem of obesity in China, the doctors said , according to China News Service. Parents should make sure that their children would not be too fat, as this also brings numerous health problems. According to the Health Ministry, which cited a statistic from 2004 , began in China more than 60 million obese people, another 200 million are overweight.
FRANCIS TAWIAH (Duisburg - Germany)