VASWANIS SAGA AND OUR SYSTEM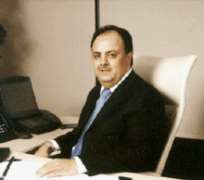 •Sunil

It is only when there is an opening on the wall that the gecko can penetrate it . - Nigerian proverb
The case of the Vaswani Brothers, currently on their 'second missionary journey' (never to come back, according to government) is as intriguing just as it is interesting. And this is why it has attracted so much media attention.
The allegations of sleazy business conduct against them and their denials, citing a set-up by disgruntled competitors would make for a best-seller in modern business intrigues. It reminds me of authors like Mario Puzo of the godfather fame and James Hadley Chase fictions on organized crimes where mega deals are transacted amidst all manner of sharp practices, subterfuge, blackmails, bribery and brutal reprisals.
Sunil, Haresh and Maresh, known as the Vaswani Brothers, are heirs to a multi-dimensional conglomerate, Stallion Group, a business of over 40 years, bequeathed to them by their patriarch.
In no time the smart kids grew the group's sphere of business interest to include food, textiles, building materials, chemicals, plastics, car dealerships and agriculture. The meteoric growth of the business under their watch was such that you could not, but reckon with them.
But their travail started in 2003 when former President, Olusegun Obasanjo deported them for allegedly being in the centre of a N40 billion fraud. They were also accused of evading tax and import duties between 1999 and 2003. Secondly, they were said to have allegedly bought millions of dollars of foreign exchange from the Central Bank of Nigeria (CBN) to import fertilizers to support the Federal Government's poverty alleviation programme only to divert the funds to the parallel market where they pocketed huge profits.
For the four years that President Obasanjo's second term lasted, the Vaswanis were declare persona non grata on Nigerian soil. But this was rescinded by President Umaru Yar' Adua, who came into office preaching the gospel of the rule of law. He reviewed the Vaswanis case and the deportation order was lifted vide an official letter dated December 12, 2007 and signed by the President's Chief of Staff, Major-General A. Muhammed.
The Yar' Adua Government felt that since the issue was still engaging the attention of the judiciary, it was rather unfair to have kicked the Vaswanis out of the country. Apart from that, their business rivals who are said to have powerful influence on the government and its apparatchik were also fingered for their misfortune. These competitors, believed to have strong clout in high places and capable of swaying the authorities into coming up with concessionary business policies that translated into big profits for them, saw the Vaswanis as emergent threat. And they fought back and dirty too. The showdown extended as far as Ghana where they also have huge investments. The Ghanaian authorities had to reportedly issue an order prohibiting the Vaswanis from entering the country only it reverse to shortly, after realizing that the Vaswani scare was a smear campaign orchestrated by business rivals.
Within two years after their return to the country, the three brothers are embroiled in yet another scandal that has seen them out of the country again; this time, along with 28 of their Indian staff. The charges against them are now familiar to every newspaper reader.
In the face of the food shortage that hit many countries of the world in 2008, the Federal Government, in an attempt to mitigate the resultant hardship, granted rice importers a period of grace from May 7 to October 31, 2008, within which they were not required to pay full duties for importing rice. The Vaswani Brothers were among those who took advantage of the waiver to do quick business. They imported nine ship-loads of rice, but it was alleged that in their attempt to benefit from this period of duty-drop-down, they allegedly manipulated the shipping documents to give the impression that the rice ships arrived our ports during this period of waiver, even thought some of the ships were still loading rice in Thailand or were on the high sea and yet to reach Nigerian ports; a bizarre clearing method that has been christened front-loading by the Economic and Financial Crime Commission (EFCC). For the purported swindle, Nigerian Customs insisted, albeit belatedly, that the Vaswanis have a balance N2.5billion duties to pay.
Theywere also accused of abusing our expatriate quota regulation by bringing into the country all manner of foreigners to take over jobs that the country has local qualified hands to do. A case in point is that of Hyundai auto dealership (which does not manufacture cars per se) where it is alleged that the Vaswanis employed 1000 Indian and Korean engineers.
The EFCC is also after them for tax evasion of N4billion and the economic and financial crime busters have thrown the searchlight on everything they've ever laid their fingers on, frozen their bank accounts and closed their auto shops. A move that may, any time from now, render the employed 10,000 Nigerians jobless.
I don't know how government came to that conclusion; but we've been told that it did a quick comparative analysis and concluded that the economic nuisance value of the Vaswani Brothers far outweighs their benefits to the economy, hence, it's better to show them the door. Fine!
But we must realize that there are worse Koraahs (local euphemism for dubious Asian and Middle East businessmen) inhabiting this land, who when compared to the Vaswani Brothers, the latter could pass for saints. In fact, they are better in the sense that they even set up structures that offer employments to Nigerians. These other types of Koraahs only take from the system and don't put back. Their only investments are their rented flats, phones, laptops and maybe warehouses.
Most times, I wonder who gave these ones the visa to enter this country. Or is it not the same cross-examinations which we are subjected to in Embassies and High Commissions here that these questionable looking Koraahs go through in our foreign missions in their countries? Don't our diplomats ask them what they are going to Nigeria to do?
I'm of the opinion that government's action on the Vaswanis matter was hasty and emotional. The government, no doubt, must have felt betrayed by the trio. Having stuck out its neck to bring them back after the first deportation, the much the Vaswanis could have done in return for the favour would have been to be of good behaviour and play by the strict rules of the game, and not to turn around and make government look foolish.
The political enemies and adversaries of this government would be having a good laugh for ever contemplating the return of the Vaswanis in the first place. But even in the face of such embarrassment, government should have, in line with its mantra of promoting the rule of law, exhausted all legal avenues in establishing the guilt or innocence of the Vaswanis before resorting to extreme sanctions.
We must bear in mind that these guys are employers of Nigerians with families and if as a result of mishandling this case they loose their jobs in this period of meltdown when government has done nothing to provide one, it would be sheer heartlessness. After all, a man is deemed innocent until he's found guilty by the court.
We all seem to agree on one point though. That if the Customs officers didn't collaborate in the alleged front-loading, it would have been impossible to pull off the racket. We read in the papers that the officers implicated in the scam were being quizzed by the EFCC who said they will soon be prosecuted. They are yet to be arraigned. Meanwhile, their supposed collaborators in the crime have been banished, their bank accounts frozen and car shops closed.
By the way, I thought it was evasion of rice duties and other taxes, and abuse of expatriate quotas that is the bone of contention. So, what have their car shops got to do with the matter? Any way, since government appears to be in a hurry to dispense 'justice', it should have done so equitably. The case of the Customs officers is a straight forward one – accessory to evasion of duties.
We cannot pretend not to know that that agency which oversees importation of goods in this country has been a well pool of corruption and fraud. But nobody wants to bell the cat. Now that government has sent the Vaswanis away, what is it going to do to sanitize the rot in that institution because if we think that by busting the purported front-loading racket, we have solved the problem of corruption in the Customs, then we're in for a grand delusion.
That brings us to the issue of abuse of expatriate quota and our immigration service. We also cannot pretend that we don't know it was some people that facilitated the entry of such as large number of expatriate workers for the company and issued them documents that legitimized their stay. Or were they found to be illegal migrant workers? No! They didn't just drop into the country from the sky either. Now that the bubble has bust, we're calling for them to be sent home and nobody is asking to know who issued them with their work permits and sundry documents that legalized their stay in the country, and this would have been done for a handsome fee.
If the government is so pained about the unfair expatriate content in the country vis-Ã -vis our qualified Nigerians, it should begin by looking at the activities of the agency that facilitates the expatriate inflow into the country. After that, it should then investigate the many multinationals, oil and gas companies that have totally made a mess of the expatriate thing thereby compounding our unemployment situation.
We were also told that Vaswani companies evaded tax to the tune of N4billion. The question any normal person would ask is, 'what has the tax authorities been doing?' Stallion Group is not so small for tax officers not to notice. If we are talking about pepper sellers, vulcanizers, welders and individual artisans, one would understand, but not a conglomerate as big as that. So, what we have here looks to me like a case of dereliction of duties by certain civil servants and government should waste no time in invoking the appropriate sections of the civil service code and punish those responsible for such criminal oversights. If however, they have been taking bribes from the affected companies to cover them up to the tune of N4billion, they should be prosecuted to serve as a deterrent to other public officers who would aid companies and individuals to evade taxes. But I know none of these will happen. We do not bother to put our house in order until there is a problem; that's when we put our two hands on our heads.
If we think that these foreigners that come here to do business do not know that our system is very porous, then we are first class jokers. In fact, that is one of the key attractions in coming to do business in this country because anything goes. And when their unregulated activities and indiscretions bite us, we begin to run from pillar to post. Yet, we will do nothing to sanitize our institutions of corruption and strengthen them to protect the national interest. My late father-in-law used to say that, 'If a man treats his mat as if it's a useless one, his neighbours will use it to evacuate refuse?' Our law enforcements and paramilitary agencies that deal with this type of issues are in state of decay and government must make effort to fix them.
Nigerians working for Stallion Group have consistently insisted that the signing of an N162billion agreement between the Nigerian Government and the Vaswani brothers to produce rice locally is what is causing this whole 'wahala'. The rice project is going to start with gigantic farm acreages in 10 states and it is expected to provide 3,000,000 jobs for Nigerians. I want to believe that government technocrats who studied the draft of the agreement and advised government to go along with it must have appreciated the economic benefits.
The implication is that most rice merchants who have been making astronomical profits from importation would be put out of business in the long run.
According to Nigerians working in Stallion Group who issued a Save-our-Soul appeal to President Yar' Adua, this planned rice project did not go down well with the rice cartel, hence they mobilized their war chest to get rid of the Vaswani brothers. Government will do well to investigate this angle, bearing in mind that business rivalry was partly what precipitated their initial deportation under the previous regime.
Personally, I think the prospect of growing rice locally with the attendant economic ripple effects and sundry benefits make better sense than leaving just a few business moguls to continue to import at higher market prices and abnormal profits to themselves,. But if they're envious of the Vaswanis, government should enter a similar agreement with them so that they can go and set up their own rice farms in the remaining 26 states. This country has a large population and there is no amount of rice production that it cannot guzzle up.
Many of you may be wondering if Neta has become a paid apologist or PR consultant to the Vaswani brothers. Not at all. They're not my friends and I've never met them before. All I know about this matter are the bits and pieces of information I picked from the media. I'm also bothered about the 10,000 Nigerians we've been told that work for the company.
Apart from them, there are also suppliers, contractors, consultants and sundry ancillary trades that do businesses with this company which are bound to be affected one way or the other. If government gets carried away and goes ahead with freezing and closing their ventures nation-wide, and in the process throw these Nigerians into the labour market this would be unfair.
This is a time to maintain a clear head and not allow sentiments to becloud our judgment. We should be able to clearly separate Paul from Barnabas. Already, government is being blamed for not doing much, like its counterparts in other parts of the world, to mitigate the sufferings of Nigerians in the throes of the financial meltdown, and now we want to throw another 10,000 into the labour market? This is a time to be wise.
Government should deal with the Vaswani Brothers legally, if it believes they have committed an offence. If the courts find them guilty, they should be sentenced according to the law. It is up to them to decide whether they'll come and serve their jail terms or abandon their companies and remain fugitives.
In a recent interview with the The Guardian, the President was asked to state 'one legacy you would want to be remembered for?' Without any hesitation, Mr. President said, 'it is the rule of law.