Jonathan Will Declare In September, Governors Can't Stop Him - Abba-Aji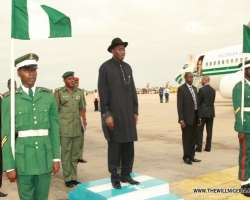 PHOTO: NIGERIAN PRESIDENT GOODLUCK EBELE JONATHAN.

ABUJA, August 24, (THEWILL) - Special Adviser to President Goodluck Jonathan on National Assembly Matters, Senator Mohammed Abba-Aji, notched up expectations today when he declared that President Goodluck Jonathan cannot not be stopped by any gang-up of some Peoples Democratic Party (PDP) governors.
He also informed a gathering at inside the Sheraton Hotel in Abuja that the President would declare his interest to contest for the presidency in 2011 officially after the month of Ramadan. The Special Adviser was at an event organized by Friends of Jonathan, a group canvassing support for him.
The Special Adviser who reiterated that Jonathan has all it takes to contest and win the race because he had inherited the political fortunes of his predecessor, late President Umaru Musa Yar'Adua, also asserted that the seeming opposition from some governors against the aspiration of the president cannot be a threat to him.
According to him, it would amount to thoughtlessness for anybody to suggest that anybody other than Jonathan should be made president at this point in time, adding that Jonathan being the incumbent president was closest to the plumb job.
President Jonathan's 2011 presidential ambition is now an open secret, but is substantially muted because he is yet to openly declare his ambition. It could be recalled that the ruling PDP recently paved the way for him to contest penultimate week when it declared that he could contest notwithstanding the party's zoning principle by which the position should naturally go to the north for the next four years.
However, some governors elected on the platform of the PDP are said to be opposed to Jonathan reported desire to contest for the exalted office. The governors were said to have met last night in Abuja where the issue was believed to be top on their agenda.
But Abba-Aji said: "The President will certainly run and he will declare after Ramadan. He is fasting along with us. He is right now fasting. He is fasting through the month of Ramadan. This is not something that he has started now; he started it since he moved to Abuja as Vice President. Because of this he is holding on. But as soon as the Ramadan is over, he will declare for the Presidency.
"There is no doubt about that. We will take a convenient date after the Sallah and you will be duly notified. Don't believe those who are saying President wont run. Don't believe them. The President will run. It is the desire of every politician to aspire to the highest level. He is now the closest person to that seat because he is already sitting on it. So he is the closest person to the Presidency in 2011. Nobody is closer to it than Jonathan because he is already on the 2010 seat. He is going to run and there is no doubt about it.
"We have made it abundantly clear that President Jonathan has inherited all the political fortunes of late President Yar'Adua. Were he to be alive he would have been automatically entitled to a second chance. That chance is the entitlement of President Jonathan.
"We are not threatened by the action of the PDP Governors. They are very important leaders of our parties in their various states and in the governance of the country. They know that this is the turn of Jonathan because as a sitting Vice President, it would take thoughtlessness to suggest that somebody other than him should be given the chance.
"We have no fear at all. We know that our Governors will support the President in due course. Many of them are doing that already. Right now on our count, I am sure that we have majority. Over two third of the Governors are with us and not that the rest are not with us, but they are yet to declare, but they will declare for the President in due course," the Special Adviser said confidently.