Body Condemns Report Exonerating Shell From Oil Spillage In Niger Delta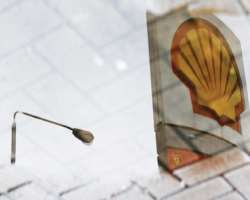 JOS, August 24, (THEWILL) - Environmental Rights Actions/ Friends of the Earth (ERA/FOEN) has condemned a United Nations Environmental Programme (UNEP) report which exonerated Shell Petroleum Development Company from serial pipeline spills in Ogoniland.
Head of a UNEP team, Mike Cowing, leading about a hundred people studying environmental damage in the Niger Delta, was said to have done the report which exonerated Shell.
The report is due for release in December.
ERA Director, Nnimmo Bassey condemned the report stressing that it should be consigned to the waste bins as It is another "violent rape on Ogoniland and the Niger Delta people whose rivers, streams, farmlands and health have been adversely affected by the voracious appetite of Shell for oil in the last 50 years. "
Bassey added that the ERA is appalled that a United Nation agency will risk its reputation and engage in image laundering for Shell saying this is a case of who pays the piper dictates the tune.
"While we frown at continued under reporting of oil spills by oil companies and their regulatory agencies, we reiterate our conviction that Shell's has a moral duty to own up to its spills and to remediate and compensate the impacted people."
Head of Media of the ERA, Philip Jakpor, on his part described the report as "not only outrageous but scandalous" as it contradicts all verifiable facts about pipeline spills in Ogoniland and the entire Niger Delta region.
Said Jakpor; "International media had reported that a three-year investigation conducted by UNEP funded with $ 9.5 million provided by Shell had concluded that only 10 percent of the pollution in Ogoniland was caused by equipment failures and company negligence and that the rest was caused by local people stealing oil and sabotaging pipelines."
The statement further alleged that Shell has been orchestrating campaigns "to white wash itself from atrocities it committed on Ogoniland that led to the murder of Ken Saro-Wiwa."
According to official reports, over 300 spills occur yearly in the Niger Delta damaging the environment and local livelihoods. The group pointed out that life expectancy in the Niger Delta is 41 years as against an average of 47 in other parts of Nigeria due largely to the extreme pollutions from gas flaring, oil spills and large-scale disposal of hazardous wastes into the Niger Delta environment.