BAD DAY FOR FAKE CORPERS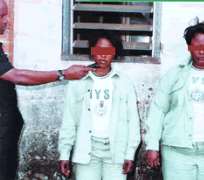 T he suspects
It was a bad day recently for two young ladies who pretended to be among those currently undergoing the mandatory national youth service. The women, who allegedly posed as fresh corps members, met their waterloo at the National Youth Service Corps (NYSC) Orientation Camp, Awgu, Enugu State.
They were picked up by police officers attached to the orientation camp after it was discovered that they were not supposed to be at the camp.
According to the state director of NYSC, Mr. Nathaniel Okpongette, the young women were arrested when it was discovered that the duo were not involved in any registration at the camp and that they also failed to go for screening when they were called to do so.
Okpongette said they came to the camp with their own NYSC uniforms, including NYSC crested vests, NYSC khaki and NYSC jungle boots.
'They came to the camp illegally and followed others to participate in all the camp activities except the screening of certificates and registration. They were eventually arrested by policemen at the camp when they were about joining others for Man o' war activities,' he explained.
He further disclosed that after their arrest and interrogation by the police, the women confessed that they were fake 'corpers'.
He gave their names as Eze Blessing and Ogechi Michael.
One of the suspects, Eze Blessing told Daily Sun that she was a student of the University of Nigeria, Nsukka, saying she is currently a 300 Level student in the department of Biochemistry.
She said she entered the University with a fake result and is, as such, not a bona fide student. 'It was when my husband continued to pester me with questions about when I would graduate that I told him that I would be serving in Enugu this year as part of the 2010 Batch B,' she explained.
Blessing further said that she got the NYSC kits from her friend even as she admitted that she avoided the screening by NYSC officials at the orientation camp. 'What I did before my arrest was to mingle with other corps members during the morning devotion,' she stated.
Commissioner of Police in Enugu State, Danazumi Doma said police investigation revealed that the two fake corps members were not given service letters but that they illegally entered the camp.
He further said that NYSC kits were found in their possession when they were arrested. He assured that the duo would soon be charged to court.