DETAINED HUNCHBACK: FAMILY CRIES OUT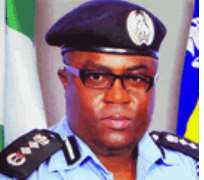 Mr. Ogbona Onovo http://sunnewsonline.com/webpages/news/national/index.htm
The Emitomo family of Iragbiji, Osun State, has cried out to the Inspector-General of Police (IGP), Mr. Ogbona Onovo, over the arrest and continued incarceration of a hunchback, 45-year old Musili Emitomo. The aggrieved family also kicked against the arrest of Musili's guardian, Sheikh Sulaiman Ayoade Emitomo; three of his siblings Kayode Emitomo; Yaya Emitomo and Osenatu Lawal Emitomo respectively.
Trouble began for the Emitomos on August 16 when news filtered in that a hunchback, Miss Taibat Oseni, allegedly killed by ritualists in Iragbiji in July 2009 had been found in Ore, Ondo State.
Taibat's family was said to have been contacted and summoned to the Osun State Police Command to identify the newly found hunchback but found out that the said Taibat was not their daughter (Taibat) neigher was she related to them in anyway.
Despite the alleged mistaken identity, the newly found hunchback, who was identified as Musili Emitomo was whisked to the Force Headquarters, Abuja by police detectives, who came to investigate the matter.
Briefing newsmen yesterday in Iragbiji, spokesperson of the family, Mr. Adetoyese Emitomo, urged the IGP to save the family from needless persecution being orchestrated allegedly by a former member of the National Assembly, Senator Felix Ogunwale, who was accused of being behind the disappearance of Taibat last year.
The disappearance of Taibat last year had led to the arrest of Senator Felix Ogunwale of the then Action Congress (AC) over the allegation that Taibat's kidnappers used his abandoned property in Iragbiji to carry out the dastardly act.
Speaking with newsmen yesterday, Adetoyese accused Ogunwale of being behind their ordeals, saying he has been assuring them that the arrested persons would be released but without any result.
Adetoyese disclosed that a day after Musili was found in Ore and taken to Abuja, security operatives came for her guardian, Sheikh Sulaiman Emitomo and three of her siblings for interrogations.
'It is 11 days now that Musili and four other members of our family were arrested, yet, the police have not deemed it fit to either arraign them in court or release them on bail to the family.
'All efforts to get Musili released to her family were being truncated by Ogunwale. I called him (Ogunwale) last Thursday and told him what happened; he promised that the arrested persons will be returned to Iragbiji on Tuesday. But nothing happened. When I called the police to know why they did not bring the arrested persons again, they said that Ogunwale has not given them money to facilitate their movement.
'Our case is very clear. We are not interested in whichever party that wants to rule Osun State or present a candidate for the Senate. If we are in government, Ogunwale can make an issue out of it that we are supporting Oyinlola in his political career.
'If we are in AC, the PDP people would say we are defending Ogunwale knowing who he is.  This is purely a family affair and we will not want to political issue out of it. Our prayer is that let our people return home', Adetoyese stated.
But reacting to the allegation against yesterday, in telephone chat, Ogunwale acknowledged that Adetoyese called him but he said he would be a fool to provide logistic to police in a case that he was arrested and incarcerated for.
'I know how many days I spent behind the bar when the incident happened. And when I got a call that the missing hunchback has been found in Ore, I don't know what will be my mission to provide money to bring the arrested persons back to Iragbiji or whatever.
'This is a case that involved two parties. I wouldn't expect any reasonable lawyer to think that I will provide logistics for the police on a matter I was also involved. In fact, I am surprised that in spite of his experience he can still be speaking like that. He too told me today, when he called that the police told him they can't release the hunchback until they conclude their investigation.
'They know the truth but they are concealing it. Rather, they will be shouting my name that I was the one responsible for non-release of the arrested persons. One thing is, however, certain; the hunchback that was arrested is a native of Iragbiji. That is the truth', Ogunwale stated.