HEAVY RAIN: 2 KIDS FEARED DEAD AS FLOOD WREAKS HAVOC IN ABA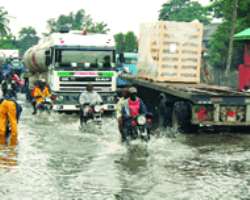 Two kids were reported to have been drowned in flood following a seven-day rainfall in Aba, Abia State.
The worst affected zones include Ngwa/Ohanku roads axis, Ogbor hill, Old Express road, Umungansi and Over-rail areas.
Narrating his ordeal to Daily Sun, a resident of Old Express, in Ariaria International Market area, where the two kids were reported to have been drowned and where over 10 buildings were also affected by the flood. Rev. Nobert Nwokeji, who confirmed the death of the kids, said three of his houses were submerged in the flood.
Nwokeji 77, and pastor of Gospel Assembly Church said: 'I retired as a government worker without pension. All I labour to put up so that at my old age, I will not suffer, have been lost to the flood.
'Apart from the flood pulling down parts of my house, my tenants have all packed away and this has greatly affected my source of livelihood since it was on these houses I rely upon for my daily bread,' he lamented.
The clergyman, who blamed the flooding of the area to poor drainage system and planning, said apart from the two kids that were drowned, properties worth millions of naira were also lost to the flood and called on Aba North Local Government to come to their aid.
Another resident of the area, Mr. John Eke, narrated how he left for work one day only to come back to find his household properties floating on water as a result of flood.
He stated that the flood had generally affected lives in the area. According to him, 'our businesses have crumbled as nobody comes around to buy things from those doing business here. The health hazard is something else. In fact, we are living in a pigsty,' he lamented.
The same scenario played out at other flood affected areas in the city. Residents of Ngwa/Ohankwu road spoke of more bitter experiences.
According to Chief Joseph Eme and Nze Cyracus Ohameze, both living within the vicinity, 'it is quite difficult to access the area during these past days as a result of flood.'
They said the situating had gone so bad these past seven days that vehicle owners in the area found it difficult getting to their homes. The duo called for a concerted effort to channel the flood particularly along Ohanku Road and East Street.
At some parts of Ogbor-hill and Umungasi visited by Daily Sun, the story was the same. As the rains continue unabated and the flood water keeps rising, residents of the areas had called on government to come to their rescue.