2011: ALAMIEYESEIGHA HEADS JONATHAN'S CAMPAIGN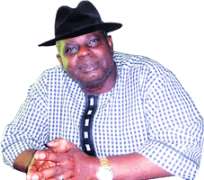 Alamieyeseigha http://sunnewsonline.com/webpages/news/national/index.htm
Chief DSP Alamieyeseigha, the former governor of Bayelsa State has taken over headship of the campaign team of President Goodluck Jonathan for the Peoples Democratic Party (PDP) presidential ticket in the 2011 polls. The decision was based on the opposition from some northern leaders to the issue of the President Jonathan's candidature for the 2011 polls and most importantly on the uncoordinated approach of the various groups purporting to be campaigning for the interest of the president.
To give bite to his resolve to ensure that his godson emerges victorious at the PDP primaries, Alamieyeseigha held a meeting at the weekend with selected PDP leaders from various states of the federation under the auspices of the Goodluck Grassroot Movement.
Chief DSP Alamieyeseigha at the meeting stated that Dr. Jonathan's presidency in 2011 would go a long way to assuage the feeling of marginization against the people of the Niger Delta and that his presidency would showcase the diversity of Nigeria and help to restore confidence to other minority groups who felt they were marginalized.
Meanwhile, Mr. Jimoh Ibrahim, who is the chairman of the Board of Trustees (BoT), Goodluck Grassroot Movement is set to donate over 800 vehicles to the movement for the propagation of the candidacy of President Goodluck Jonathan. According to Ibrahim, the movement was created to ensure that President Jonathan wins the presidential primaries of the PDP whenever it holds.
According to a statement issued by Otunba Wasiu Banjo, the director general of Goodluck Grassroot Movement, it was resolved at the meeting that genuine leaders of the PDP should be mobilized towards ensuring that President Jonathan emerges as the candidate of the PDP at the forthcoming presidential primaries despite the resolve of some northern leaders to uphold the zoning principle which makes the ticket the exclusive preserve of PDP members from the northern part of the country.
Among the notable leaders, who attended the meeting hosted by Jimoh Ibrahim were Senator Rasheed Ladoja, Chris Ukpabi, Silvanus Ngele, Chief Chris Ekpeyong, Sergeant Awuse, Emmanuel Mangni and Kenneth Gbagi.
Others were Victor Nwokolo, Mr. Emmanuel Ibeshi, Frank Ugwu, Vital Opara, Otunba Rueben Famuyibo, Otunba Segun Adekoya and Alhaji Isa Tafida.
Also in attendance were Mr. Y.Y. Sanni, Alhaji Abdul Rahman Abubakar and Mr. Dolapo Balogun.