NO CRISIS IN IMO PDP, BUT CLASH OF INTEREST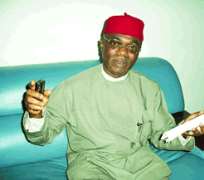 Ozichukwu
http://sunnewsonline.com/webpages/news/national/index.htm
The PDP in Imo State has been polarized into factions. While the Governor, Ikedi Ohakim calls the shot at the government house, he is also alleged to be dictating who gets what, when and how at the Party secretariat. Contending for relevance and leading the opposition flank are former governor of the State, Chief Achike Udenwa  and Senator Ifeanyi Ararume. Protests is trailing the local government election recently conducted in the state, not from opposition parties, but PDP stalwarts in the State.
But former national vice chairman of PDP south- east, Chief  Fidelis Osita Ozichukwu  insists that all is well with  PDP in Imo.
Excerpts:
Why is it difficult to achieve reconciliation in Imo; Ohakim has been accused of alienating founding members of the Party in the State ?
I think we have to get one thing very clear and that is, it was the party actually that approached his Excellency, Governor Ikedi Ohakim to come back home and rejoin the PDP in which he was a foundation member. I want you to note and to record that the PDP in Ohakim local government was actually launched by his Excellency in 1999.
Make no mistake about it; at the time Senator Ifeanyi Araraume was the chairman of ACP, they came from the same local government . So, if you are talking of a foundation member of PDP in Imo State I want you to note and to record that Ikedi Ohakim was a founding member and a foundation officer. He was a member of the Steering Committee and the Finance Committee of the Party at inception. That was when before the first party chairman in the state came on board.
So, the issue of a foundation member, I don't know who is a foundation member I know he is a new member. But I think in Imo State, what we are now trying to do, is to reconcile the warring groups.
The PDP has been intact, if there are some members of the PDP, who for any reason felt that they didn't win, or didn't at any time achieve their ambition at attaining any position in the party, it isn't enough to rock boat. It is God that gives power and He gives it to whoever and whomever He wishes. There is time for everybody; there is time for me, there is time for you and there is time for others. I will advise every person to please, wait on God,
But the cause of the raging altercation was the refusal of the Governor to respond positively to the agitation for postponement of the recently conducted local government election.
But I don't subscribe to the issue that the local government election that was held in Imo last week could have been postponed. The national secretariat, the national chairman and the National Working Committee, [NWC] constitute part of the apex leadership of the party and under no account and for no reason can any person show any form of disrespect or disregard to any directive coming from the national secretariat.
Far from it. I was national officer, in fact, the only PDP national officer that survived for eight years. I was and as the national vice chairman, I never tolerated any form of disregard, or disrespect to my office and I wouldn't encourage any person more so, a governor, an officer or major stakeholder in the party to show any disregard to any national officer.
I was there, I never tolerated it and I wouldn't tolerate any person, in any way or form, trying to show disrespect or disregard to constituted authority.
Be that as it may, we heard that a letter was sent to the zonal vice chairman, who forwarded same to the party in the state. On enquiry we found out that this letter arrived on the 27th of July  and they weren't in a position and I don't think that the national executive, or the NWC could have contemplated in  any way or manner, that the state governor could interfere with the function of the State Independent Electoral Commission. It wasn't only PDP that was contesting the election and it wasn't a party affair. So, what they did on enquiry they told us was to now forward this to Imo State Independent Electoral Commission.
That's the letter?
Yes, asking for their understanding and cooperation at which the Imo SIEC fired back, abusing those who forwarded the letter to them, trying to remind them that they are independent electoral commission and under no circumstance would they… now they told them first when they met them that there were more than fifty political parties that were involved in the exercise and that this thing started, since last year and most of them have spent over a billion each on this.
More so, the moral burden of having announced a fixed date and every person was working towards that date, to now come up, suddenly to now tell people that because PDP did this or that, that they were no longer going to hold the election; that they advised them instead, that the only option left for PDP was not to contest.
Of course, it wasn't PDP that was contesting, individual members had contested the primary, won it and the national secretariat had forwarded their names, directly to ISIEC. So, if you are going to substitute, you substitute individual members. If there would be any reason to do that, but then their concern must also be sought, because if you see what has happened, based on what happened in the last election, when INEC was talking about verifiable reasons.
And if you don't have reasons, you don't have to go and  disgrace yourself, because at the end of that election, protest of substitution, people would also go to court.
Now, when the state  and the PDP was ready to do that, they have now gone to court, to stop this election and of course, there is no subsisting injunction that I know, because I asked them and they said that there is none that would have stopped that election and sentiment and emotions weren't enough.
So on enquiry they said after the party pleaded with ISIEC and they refused, that they have no option, because when they got ISIEC was on Friday, the election was to be on Saturday. So, they mobilized and went ahead and participated in the election.
Well, we asked them that they should have for whatever reason, related to the national secretariat, telling them their constraints and the position of the State Electoral Commission and then asking them, or agreeing with them as to the way forward. But like you know, so many things they said happened in between.
One was the time they got the letter from SIEC and all the demands and pressures that were attendant to the imperative of the next day challenges. So, I am not holding brief for them, but that is to show you that we have made enquiries to find out why did this happen and when and how?
I have explained that look, we couldn't have for whatever reason disregarded them and as party leaders in the state, that they thought they could exercise discretion and initiative in matters that could have affected the party very adversely.
Come to look at it, if they had asked all the party candidates not to participate, we would be talking of 57 local government chairmen and 27 deputy chairmen and 305 councilors that could have gone to another party. Look at the multiplier effect and the trickling down effect.
At the end of every month, the state gets its own allocation from the federal government; the local government also gets its own allocation from the federal government.
If PDP didn't participate and control any local government, it means that PDP also wouldn't partake of the sharing. If what comes to Imo and the local government amount to about N1.8billion every month, in ten months, you are talking about N18billion, which could be in circulation and in another party kitty and when they open their war chest I don't know what anybody could mobilize to face such. So, there are consequences to face.
But don't you think, Governor Ohakim should have called every stakeholder in the party and place his cards on the table…
[cuts in] Well, it is unfortunate that there was a communication gap and there was this believe, but in retrospect, you ask yourself, what could have been the best?
Is this for the party? And if they got report from SIEC, by 7 or 8pm and couldn't get to the national secretariat, which of course, we have blamed them. They could have done everything, even if it means sending people by night bus, because in those days that was what people were doing—to come and consult and discuss with the national secretariat. Also, if such a thing was happening, the national secretariat, should have also.. I don't know what happened, but the issue today is, thank God PDP won in the 27 local government.
It is the position of the other parties, it is their responsibility, to challenge this in court. I am a foundation member of PDP. We have made so much sacrifices for PDP; we have fought for PDP; we have suffered all sorts of bruises, abuses and insults. But we are still in PDP! We haven't left. Nobody can say we are supporting Ikedi Ohakim. We are supporting the party. It is where the party is, that we are.
You still see Chief Iwuanyanwu, the two former deputy governors, Chyna Iwuanyanwu,  Dr Douglas Acholonu, Senator Izunaso and others. We have as much stake in PDP as any other person. It is for us to implement whatever policy and agreement that the party had arrived at . So, for anybody to say because he fought for a position and didn't get it, then hell must be let loose, I don't think it is right.
The party can not continue to promote indiscipline. If you contested election and didn't win, you file behind the winner, you must show the spirit of sportsmanship. Like I said, it is God that decides who becomes president. It is God that decides who becomes governor; it is God that decides who becomes national chairman. It is God that decides, who becomes what. And if you don't get it today don't think that hell must fall. You wait until such a time that it pleases God to give you what He thinks that would be enduring, sustaining, something that can make you happy.
Don't you think the recent development—PDP members rejecting the result of an election that favored the party speaks volume; that reconciliation has failed in Imo?
Well, like I said there is need for reconciliation, but reconciling who with who? PDP has never been in disarray. Individuals have their differences, but in reconciling those individuals with the party, you must understand that who are we reconciling with who? Do we have to destroy the party in order to make one or two individuals happy? I don't think it is right.
These individuals, if you remember what happened in Akwa Ibom, the Party had told those who left the Party to go back and join the Party. That is what it should be—not the party to go and join individuals.
There was an election, I don't know what happened between Chief Achike Udenwa and Ikedi Ohakim but I know that when Udenwa was the governor he had problems, quite a lot.  Bit in spite of all those problems, we supported him. In his worst times, we were behind him. We waded off every challenges to make sure that he succeeded, because if he didn't succeed, it was Imo that could have suffered. I expect that whatever personal differences Udenwa and Ohakim has, it shouldn't affect the party.
Yes, Udenwa was governor, but he was governor with our votes. We love him, we respect him. He is a party leader today; he is a major stakeholder. He is the only surviving democratically elected governor of Imo State. He should be the rallying point, the pivot around which all these things evolve. Why should he now be a factional leader? It isn't right. He made it possible, he participated fully, he endorsed Governor Ikedi Ohakim. I don't know what happened between them, but it has nothing to do with the party. It is personal differences and they shouldn't allow emotions and sentiments to over ride reason. PDP is an institution.  Individuals should be asked to go and sort out themselves privately but they shouldn't bring to the party their personal differences. It isn't right. Ararume is also not happy with the manner the Governor has been conducting himself over party affairs
For Senator Ifeanyi Ararume, we must accord him his due respect. He was a foremost party leader. He was in PDP and I believe he is still in PDP. But he came into PDP, from APP. The PDP candidate for the Senate at the time  was asked to step down to accommodate him and he contested and won on the platform of PDP.
If you remember that Chief Martin Agbah was the PDP candidate for Owerri senatorial zone. He was told to step down for Chief Evan Enwerem and he allowed Enwerem who came in from APP to contest; it was only Senator Arthur Nzeribe who contested in APP and won.
After his first four years, he now moved to PDP. Chief Emmanuel Iwuanyanwu also joined PDP and a host of others and they were accommodated. So, I don't see why we now talk of original members, foundation members… when they came, we accommodated them. We told people to show them fellowship, show them love, give them sense of belonging.
If Senator Ifeanyi Ararume and Chief Achike Udenwa could come together, I don't see why both of them could also not be joined with PDP. If you look at the list of stakeholders, 55 members in that list are stakeholders, but 19… so, do you mean that the 19 are not important? Do you mean that the 19 are greater stakeholders?
Today, we have a minister and we know when he came into the party. So, I don't think any of these things should distract us. There is need for reconciliation to continue, but it shouldn't destabilize the party.
There is no problem in Imo PDP, there are people who are aspiring to one position or the other. So, there is conflict of interest that we must manage, but we must not interpret that to mean that there is crisis.
PDP has gone for an election and has won. It has won today, it won yesterday and it is going to win tomorrow. But I believe and I agree that there is no good war and there can be no bad peace.
If our members, if our brothers—these are people we respect, these are people I believe still have roles to play in Imo State and the PDP. These are people I believe PDP is willing to accommodate, give their place of honour,  that PDP will be most willing to embrace, provided they come in and accept the olive branch that they have been offered. They are our brothers, they are part of us, we respect them, we love them and we welcome them back to the fold.