NSE ACCOUNT WAS SEVERALLY AUDITED WITHOUT INDICTMENT – ONYIUKE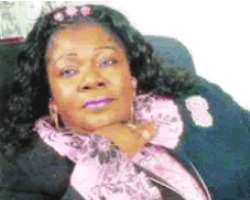 Okereke
The embattled former Director General of the Nigerian Stock Exchange (NSE) Prof Ndi Okereke-Onyiuke has said that the account that is generating so much public attention has been severally audited without indictment. According to her, there was no lost fund in the Exchange because the funds generated by the NSE have been judiciously deployed to garnering infrastructure for The Exchange.
She said that these same accounts have been subjected to a special audit by a team of Securities and Exchange Commission (SEC) inspectors and external consultants without any indicting outcome. She said that it is worrisome that SEC would rely on the unsubstantiated allegations of one man for its disruptive intervention in the management of The Nigerian Stock Exchange when its previous exhaustive investigation of the same subject-matter came up with nothing indicting on the Management of the Exchange.
'Meanwhile, I wish to leave honourable members of the committee with this insight into the expenditure profile of the Exchange in the four-year period (from 2006 to end of 2009) during which the Stock Exchange was alleged 'to have grossed a total income of N42.2 billion with a surplus of only N5.6 billion, representing 13 per cent growth over the period.'
She said that in the prevailing culture of disinformation and selective perception, the public has not been told that over the same four year period, the Nigerian Stock Exchange carried out major infrastructure upgrades and investments which include: Buy out of 60 per cent interest of Daily Times Plc in Naira Properties Ltd (owners of the Stock Exchange Building); installation of two 1,500 KVA generators for the Stock Exchange building; redesign and upgrade of the world-class head office trading floor commissioned by President Umar Musa Yar'Adua, in October 2007; design and construction of a data centre and power bank to guaranty regular and uninterrupted trading.
Others are resumption of the development of 14-storey commercial office building in Port-Harcourt, Rivers State which construction work has reached the 8th floor; commencement of phased refurbishment work at the Stock Exchange House, which since 1983 when it was commissioned, had not been refurbished; installation of new lifts at the 23-storey Stock Exchange House in Lagos.
Yet others are refurbishment of the central air conditioning system for the 23-storey Stock Exchange House in Lagos, investment road-shows that enhanced the profile of Nigeria in the international investment community; and opening of new branch offices in Benin, Ilorin, Uyo, Onitsha, Abeokuta, Owerri and Bauchi among others.