WOMEN STORM AKWA IBOM GOVT HOUSE OVER KIDNAPPED COUNCIL BOSS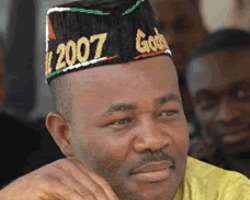 Hundreds of women on Sunday stormed Akwa Ibom State government house to demand Governor Godswill Akpabio's intervention for the release of the kidnapped Chairman of Onna local government area, Mrs Owodighe Ekpotai.
Ekpotai was kidnapped last Thursday evening after attending the stakeholders' meeting in connection with the oil spill problem in the area. One policeman was killed while another was seriously injured in the process.
The women who were led by the wife of the paramount ruler of Onna, Obonganwan Patience Ukpa were, however, a little too late as they met the governor driving out of the government house gate. They, however, resolved to wait even as at the time of filing this report till the governor would return.
Daily Sun, however learnt that the kidnappers had made contact with the family and had demanded a whopping N500 million ransom before the council boss could be released.
The state Commissioner of Police, Mr Walter Rugbere told Daily Sun that some suspects had been arrested in connection with the kidnap. He also confirmed that the hoodlums had made contact with the family for the ransom.
'They can't talk to me about ransom because my policy is never to negotiate with criminals. So we will do everything humanly possible to free anybody kidnapped from the security point of view; but to negotiate with criminals for ransom? Never.'
It was learnt that aides to some influential politicians in the area were among those arrested by the police. Unconfirmed report had it some politicians eyeing elected or re-elected positions in the area had begun mounting pressure on the police to release the suspects. But Rugbere said there was no such pressure. 'People don't mount pressure on me to release anybody.' That is not true.'
He, however, said if those arrested could establish enough alibi that they were not near the scene of the incident, they could be released. 'All the people we have arrested are mere suspects; we have not yet gotten the kidnappers.'
Ekpotai is the second council chairman to be kidnapped in the state. Last year, the chairman of Essien Udim and state Chairman of Association of Local Government of Nigeria (ALGON), Mr Nse Ntuen was also kidnapped and a ransom close to a billion naira placed on his head.
It could not established how much was eventually paid to secure his release even as nobody has so far been charged to court for that incident. Ntuen ironically is from the same local government with Governor Akpabio.