Breaking News: Ultima Studios Is On Fire!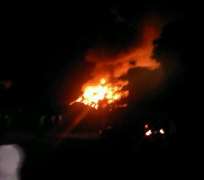 Reports reaching us this evening (22 Aug) reveal that Ultima Studios, located on Plot 45 Omole Industrial Layout, Isheri/Ogba Junction, Ogba, Ikeja, Lagos has been badly damaged after a mysterious fire on the premises spiraled out of control.
There were no reported casualties and the exact cause of the fire was yet to be determined at press time, please stay tuned to this pages as the story unfolds.
Ultima Studios is owned by Ultima Ltd, a Lagos-based TV production company responsible for such popular TV shows as Who Wants to be a Millionaire (Nigeria) and Project Fame West Africa. The shows were routinely shot at the studio from where they were broadcasted to the rest of the country.
*Developing Story*

CEO of ULTIMA STUDIOS Femi Ayeni poses with singer ASA

Ultima recording studio at Omole Junction, Isheri Road, Lagos gutted by fire ... on Sunday night