2010 Electoral Act: CNPP Applauds Jonathan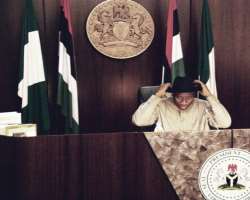 PHOTO: PRESIDENT GOODLUCK JONATHAN.

ABUJA, August 22, (THEWILL) - The Conference of Nigerian Political Parties (CNPP) today hailed the signing of the 2010 Electoral Act by President Goodluck Jonathan, describing it as a welcome development that has enlivened the political environment.
In a statement by its National Publicity Secretary, Mr. Osita Okechukwu, the group said "It is a welcome development, in spite of the unwarranted delay in assenting to the bill after weeks it was passed by the national Assembly.
"What is needed now is for a all hands to be on the deck to ensure a free, fair and transparent 2011 general elections," he said.
The CNPP according to him is however at a loss why the presidency had to wait for the outcry of the Chairman of INEC, Professor Attahiru Jega, before swinging into action.
"We had thought that the duty of Presidential Liaison Officers is to brief Mr. President on daily basis as the amendment process unfolds at the National Assembly.
"Therefore we are at a loss on the statement credited to the Honourable Minister of State on Information, to the effect that President Goodluck Jonathan is not a rubber stamp," the statement said.
"President Goodluck Jonathan should be on top of the situation as we march towards 2011 general election, 'delay is dangerous'," the CNPP stated further.