Battle Royale: Jang Stops Monthly Allocation To Deputy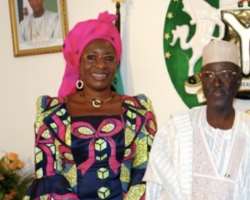 PHOTO: PLATEAU STATE GOVERNOR, MR JONAH DAVID JANG (RIGHT) AND DEPUTY, MRS PAULINE TALLEN.

JOS, August 21, (THEWILL) - More indications that the rift between the Plateau State Governor, Jonah David Jang, and his deputy, Mrs. Pauline Tallen has escalated emerged today as THEWILL learnt that the governor has stopped the payment of monthly allocation to the office of the Deputy Governor.
Funds usually allocated for staff salary and running of the office of the Deputy Governor have been withheld, THEWILL was informed by a reliable government source.
Consequently all political appointees in the office of the deputy governor have been denied their monthly allowances for three months without any cogent reasons.
An employee in the Deputy Governor's Office, who chose to be anonymous informed THEWILL that the deputy governor runs her office with her own personal funds while her staff rely on whatever she gives them to sustain them.
Mrs. Tallen, from information available to us, has not been allowed to treat official files, as none has passed through her office in months.
Following her revelation last week in Abuja that the state governor did not hand over the administration of the state to her when he travelled out of the country, the state governor decided to exclude her from the State Executive Committee (SEC) meeting. She was also not informed that this week's SEC meeting had been moved from Wednesday to Thursday, in order to lock her out.
A competent source at the Government House Rayfield, Jos, informed our correspondent that the deputy governor was seen sitting in her office at the time the state's Executive Council Meeting (EXCO) was being held to deliberate on crucial issues affecting the state.
Mrs. Tallen is most times in Abuja because of the no love lost relationship between her and Mr. Jang.