NORTH CAN'T INTIMIDATE US – GRAHAM DOUGLAS, SOUTH SOUTH LEADER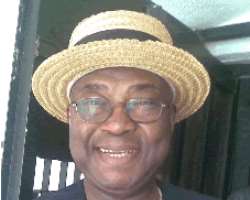 Graham-Douglas
Former Minister of Aviation, and member, Peoples Democratic Party, (PDP) Board of Trustees, Alabo Tonye Graham-Douglas, has warned that the South-South will not succumb to any intimidation and threats by some old politicians from the North. He alleged that Northern politicians have reportedly been threatening fire and brimstone if PDP fails to ensure that a northerner emerges as the party's presidential candidate for 2011 general elections.
He told Daily Sun: 'The recent utterances from some old politicians from the North are unbecoming of people of their status. They have not only been parochial and narrow-minded over the issue of zoning and 2011 presidential elections, they have also turned the whole thing into a do-or-die affair. These are eminent people who are supposed to be the rallying point for the country's unity, but their recent utterances leave much to be desired.
'They have been making all sorts of threats by saying that it is either a northern candidate emerges as PDP presidential flag bearer or they will kill the party or cause problem for the country. I'm very disappointed with these elders. Their reckless statements are overheating the polity and they should be told in clear terms that the days of threat and gunboat diplomacy are over. Their threats will never work.'
While insisting that dialogue is the best option to resolve any political issue, Graham-Douglas said the people of the South-South will not fold their arms whenever the interests of the region is threatened: 'South-South is the region that produced over 90 per cent of the resources which keep this country. We are ready to protect our resources. We can't be intimidated.It is surprising that these old politicians could go this far. At their age ,they should be more concerned in promoting and preaching issues that will bind us together as a nation.'
While warning the old politicians against instigating any problem that could throw the nation into crisis, the former minister said all stakeholders in the nation's polity should refrain from any act that may make the prediction by a team of experts from the United States some time ago that Nigeria might disintegrate in a few years time, to come to pass.
'I believe in the unity of this country. I believe we should all be our brother's keeper. But no individual or group should think they have the right to lord it over others. Nigeria belongs to all of us.'
The former minister, who insisted that President Goodluck Jonathan has every right to contest 2011 election said steps being taken so far by the president has clearly shown that Nigerians are set to enjoy good governance.
'Since Jonathan assumed duties, if we want to be honest to ourselves, things have changed. Power supply has improved, calm has returned to the restive Niger-Delta region. Security has not only improved but the president has also shown that he was truly committed towards ensuring that we have credible elections next year through the support he has been given Professor Attahiru Jega-led INEC. He deserve our support if he want to run.'