SYLVA DECLARES FOR SECOND TERM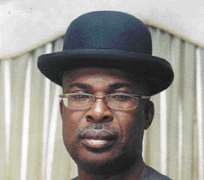 Bayelsa State Governor, Timipre Sylva, has declared his intention to contest for a second term in office. The News Agency of Nigeria reports that Sylva made the declaration when he received members of the Rivers' branch of Bayelsa Elders Forum, led by its Chairman, Chief Eneh Arosimo, in Yenagoa on Friday.
The governor pledged that his administration would do its best to ensure the state's development and highlighted some of the government's efforts in promoting the state's infrastructural development.
Sylva, who noted that the elders were the custodians of the people's conscience, urged the Forum to support to President Goodluck Jonathan and efforts to ensure his continuance in office beyond 2011.
He noted that Bayelsa and the Niger Delta region as a whole had benefitted much from the Federal Government with Jonathan at the helm of affairs.
Sylva partly attributed the state's progress to the elders' efforts, stressing the need for all stakeholders to leave an enduring legacy for posterity.
Responding to the forum's request for a bus, Sylva promised to donate a bus to the group, while assuring its members of sustained government support. Earlier, the Forum's spokesman, Mr Emmanuel Alazigha, said that the forum's major objective was to unite all the people of Bayelsa residing in Rivers, while strengthening the relations existing between the two states.
He commended the governor for the way he was handling the affairs of the state, as well as for his role in the amnesty programme for militants. He said that the Forum wanted the governor to contest for another term in office, promising that members would contribute to his electioneering.