JONATHAN HAS LOST FOCUS – NDUME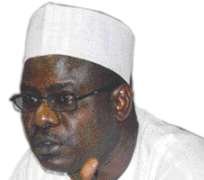 Hon. Mohammed Ali Ndume is the minority leader, House of Representatives. He is not a man that spares the Peoples Democratic Party (PDP) the stick any time he has the opportunity. In this interview, the representative from Damboa/Gwoza/Chibok federal constituency of Borno State insists that the zoning controversy is PDP's way of causing divide and rule in Nigeria. He also explains why some rebel members of the House were suspended. Excerpts…
Why is the North saying zoning should stay?
The zoning controversy is a PDP affair. For us in All Nigeria Peoples Party (ANPP), it is a constitutional affair; it is firmly entrenched in our constitution. Article 10 page 7 of the ANPP recognize zoning and rotation. I am of ANPP and the zoning controversy is a PDP affair, but they are trying to make it a national affair.
I don't pray that they will continue to rule because the PDP in the last 11 years has vandalized Nigeria; they have only introduced kidnapping, assassination, militancy, armed robbery, power degeneration and widespread religious crisis. I have not seen anything good about the PDP.
Zoning is a PDP affair and I feel if there is a gentleman's agreement, people should keep it, if they want to remain gentlemen.
Do you think Jonathan should be thinking of contesting in 2011 bearing in mind the gentlemen's agreement in his party?
My biggest worry is that Jonathan has abandoned his post as President of the country and is struggling to be a presidential candidate. It would have been better for him to do what he needs to do as President and allow Nigerians decide whether he is fit to continue in office, but he is missing that opportunity.
If I were him, I will concentrate on provision of power and the electoral process. On electoral process, the appointment of Jega was good but he has abandoned his duty as President and is struggling to be a Presidential candidate.
What will you say about the merit of zoning which your party has adopted?
I don't know why you are so keen on zoning but I know that zoning and federal character was brought about as a result of the search for justice, fairness and equity. Nigeria took off as three regions and later the Midwest was created.
It was not because of agitation; the military took over and created 12 states. The reason why this is on is because of poor leadership that led to the marginalization of some people. If we can provide good leadership, all this agitation and talks of cheating will be consigned to the dustbin of history. They wont be saying it has to go to the south or it should stay in the north.
The issue of zoning that should be based on honor, I am not concerned on where the President comes from but agreement is agreement, you don't change the rule of a game in the middle of the game. My party has tentatively zoned the chairman of the party to the south East, if that is what we eventually agree to, I will abide by it. The issue if zoning should not generate so much heat. If we have federal character in the constitution, is that not zoning? The only problem that I have with zoning is if we compromise quality.
The problem with Jonathan is if he has decided to do the job of the president by ensuring good road, reduce crime, reduce poverty, stop militancy, I am sure I and several Nigerians would be willing to vote for him but he has abandoned his job as president and trying to be a presidential candidate. He is not doing the job of the President; we don't have a budget till date. He said we should reduce the budget and we did by 40 percent but he has refused to sign the new budget and as at today, we don't have a budget. He has also not signed the electoral Act into law. He has not declared a state of emergency in power sector, he kept on cutting deals.
Are you saying he has lost focus?
He has lost focus. He is a president but he striving to be a presidential candidate. Why should I be looking for a job that I already have? He kept on listening to praise singers, those same people that wanted Abacha to become a civilian president are the same people that were behind Obasanjo's third term, they are the same people Jonathan must be president or Nigeria will break. Who told them that Jonathan will win? My party ANPP is waiting to defeat the PDP at the polls. There will be at least 10 to 20 candidates to contest the Presidential election and Nigerians have the right to choose but I am not expecting them to pick Jonathan.
What do you make of the zoning controversy going on in the PDP?
It is just a distraction by the PDP to cause divide and rule and create confusion between the north and the south.
Why do you think it is divide and rule?
The whole controversy is unfortunate and it is a clear indication that the PDP is not an organized party. I would have preferred a situation where the President would concentrate on his job of providing security, working on good roads, implement the budget and provide us with electricity and then allow his performance to determine his eligibility by Nigerians.
Why did your party, the ANPP shift its national convention at the last minute?
It is because of logistics. We sent a letter to INEC notifying them of the convention. The law says there must be mandatory 21 days before the convention is held. We felt that if we are to do it for July 31, there could be speculation and then we heard it on good authority that some people want to take that advantage to disrupt the convention. So, we in the convention planning committee felt that why should we fall into a booby trap if we can avoid it.
So we decided to give INEC the 21 days that the law stipulated. When you look at that and we realised that date will fall on August 10 which is during the Ramadan fasting period, so we decided to shift it till well after the Ramadan. We shifted it so as not to fall into their trap not that it was forced on us.
But it was said that INEC stopped it.
No, INEC didn't stop it, we shifted it on our own. INEC was not categorical on it. The law did not say that INEC should give us approval; it merely said that we should give INEC 21 days. INEC didn't complain but I remember that someone sent a petition to INEC that we are about to call a convention and we did not meet the statutory requirement of 21 days. One chief Okeke from the South East wrote the petition. So we reasoned, why should we bring everybody to Abuja only for a court injunction to stop it?
We have a bad experience in 2006 when Senator Dansadau wants to be the chairman of the party and someone from Imo got a court injunction and stopped the convention when all delegates from all over the country are already in Abuja.
Are you surprised that ANPP is getting smaller by the day with so many people leaving for PDP?
I am not surprised because in a situation where you have an over bearing party like the PDP who is not comfortable with the opposition and is not ready to allow the opposition to be, this is what will happen. Again, in the ANPP, we have all sorts of people-undertakers and saboteurs, and then we have a lot of genuine people too who want to work for the party and the country. We had a person like Gen. Muhammadu Buhari who is a man with high integrity but was frustrated out of ANPP.
But the PDP too is facing the same problem because they just lost Hon. Bello Masari to the CPC and so many people are still threatening to follow him. Some of those in the PDP too are going to come to us. The zoning trouble in PDP will also send so many people to us, so you can't write us off with this political cloud gathering.
The real reason for all this agitation and call for change is because the PDP has not performed. For the last 11 years that they have been on the seat at the Presidency, I am yet to see what they have done for the country. It is because they have failed that the people are asking for a revision of the constitution and a new electoral law that will guarantee one man, one vote.
People are saying there must be credible election. Do you know why? It is because PDP has not performed. If the PDP had performed no one will talk of electoral reform or changing anything because the people are enjoying. People are desperately looking for the alternative, but the PDP unfortunately is desperately working to kill the alternatives.
Is the ANPP thinking of going into alliance or merger with other parties to be able to face the PDP in 2011?
We tried that through the mega party idea but it did not succeed. The problem that caused that failure is principally because of those people that think they are the one that are supposed to lead. I think that was wrong. I will say the most patriotic and respected persons in that arrangements are Olu Falae and Bola Tinubu. Buhari is also another, but he was hijacked by the people around him.
People come to meeting with the mindset that they should be the one to lead and so you won't achieve anything. People want to be the Presidential candidate or the national chairman, it won't work and so the plan failed.
If the objective is to get PDP off the neck of Nigeria and they are choking the country, we need patriotic people to rescue the country. But you will not be right to be asking what you will get if you help in liberating the country. It will be like a hunter asking what he will he will get if he assists in killing an animal that is terrorizing the village. That is why it didn't work.
But I hope there would be alliances that will be able to push the PDP off the stage so that they won't kill Nigeria. The biggest problem of merger is now time constraint. The law requires that any merger between parties must be done six months to election and the election is for January.
Talking about January election, some people are canvassing that the date be shifted, that the provision that stipulates the January date be suspended till 2015; do you subscribe to that idea?
No, I don't. It is creating room for manipulation by the PDP. If we want to do it, I know we can do it. God has given us the facilities and the people and what we should just do is give the INEC what it needs. To conduct election in this hi-tech age is not difficult if you have the money and with the number of unemployed hands in the country, we can quickly recruit, train them and do a good election.
It is said that the January date might not allow INEC to give us a fresh voters' register
That is coming from you; Jega said if he can be given the money he needs on time, he would conduct a credible election. If Jega says he can do it, why should we be pessimistic? We can do it. If we shift the election, you allow room for manipulation. The constitution has come into effect, so how do you change it?
You suspend that particular section that relates to election
How do you suspend it? This is a constitution. You don't have the right to suspend any part of the constitution.
Don't you believe the President needs to sign the constitution before it becomes law?
No. The process for amending the constitution is very clear in the constitution itself, unless some people want to interpret it. To the best of our understanding in the House leadership, we have fulfilled the position of the law. What will it cost us if the law says the president must endorse it and we are saying no? We have nothing to lose, we have nothing at stake, and it is all about what the law says. Even now as the majority has adopted it, the president cannot on his own change anything. But the issue is the law did not say the president must endorse it before it becomes law. It won't cost us anything for him to sign it if that is what the law says.
I feel bad that we try to make something out of nothing. They are always interested in creating scenarios that will create distraction and you in the Press want to publish stories that will sell your paper and then promote these people and by the time all this is added together, we won't know when the country will blow and collapse on all of us. Kidnapping is now commonplace; even journalists are no more spared.
Why is it difficult for the House of Representatives to allow the leadership to be investigated? Are you trying to hush the voice of dissent in the house and interestingly, you of the ANPP appear to be speaking for Bankole, what's happening?
I am not speaking for Bankole; I speak for the house. I am part of the house. I am the minority leader of the House and I know these guys raising these allegations more than you.
The interest of the house is uppermost and I cannot because of personal interests or politics rubbish the house. I wont do what these guys tried to do and the house sanctioned them. Two of them are going to be recalled, but for the recess. They faced the ethics committee and they were not in the chambers on that day, but for those that have gone to court, we do nothing.
The truth is and they know that in every society there are rules governing that society. If you are leaving in a glass house you don't throw stones, I tell them that every time. You don't insult yourselves, which is what they tried to do.
They tried to be trivial, they sent out text messages that I call a Muslim meeting under the guise of northern members in order to work for Bankole against members who are mostly Christians. They conveniently forgot that my mum is a Christian and I am a Muslim and I have junior brothers who are Muslims and Christians.
They raise all manners of allegation and for me I don't know many of these things because I went to the House to make laws not to go around sniffing for information on what has the speaker approved or not approved.
Essentially, the issue they raised is not against Bankole but against the House, but they have personal issues against Bankole and they allow it to rub off on the House. They know they are not supposed to go to the Press, they know they should have gone to the members and if they had done that, the Speaker would have gone. But they went out to rubbish the whole House.
They are doing all those because they did not get one committee or the other, but they forget that there are several members that have never headed any committee, they are thinking they are more than what they are, that is why the House descended heavily on them.
And you the Press that they thought would help their case have left them. I am surprised you still raised it, but the matter is no more news in the media because people are tired of their noise and the media has to look for something else or people won't buy their paper. If you are in a system, you must live by the law governing it; it was not Bankole that suspended them, it was the House.
The day they want to suspend Hon. Independence Ogunlewe, I stood by him and I was the only one and I was ready to fight the Speaker because he was not given a fair hearing. We just entered the chambers and they wanted to suspend him. I was ready to fight anybody. Hon. Dino Melaye is a brother and friend. I was working to get him back his committee but being a committee chairman is not a right, it is a privileged, even as I am a minority leader is a privilege.
We don't have 360 committees; we have just 80 committees and so every member can't be a chairman. We don't have 360 leadership and we have just 10 leadership. It is my colleagues that decide to make me the minority leader so I have to defend them at all times. I won't want the House to go down.
If it goes down, it will consume all the 360 people in it, so it is better for just eight people going down and allow the 352 others to stand. These guys have problems with Bankole and they want to pull down the whole House. They didn't come with the evidences to back their allegation and when they eventually did, they went to the Press and the EFCC. So if the EFCC is doing its investigation, what are we to do in the House?
If they had wanted us to do some things, they would have come to the House with the evidence they said they have and not the Press and EFCC. Even that day when they were moving a motion to suspend them, they should have moved a motion to step down not blowing whistles or trying to grab the order paper and tearing it.