THERE ARE GOOD & BAD ACTS IN NOLLYWOOD – EBUBE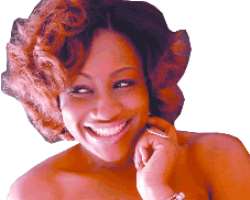 Ebube
For Nollywood top actress, Ebube Nwagbo, life has been quite wonderful. Apparently, she knew what she wanted in life quite early and today she has carved a niche for herself.
Her big break came about seven years ago in 2003 when she featured in Arrested by Love, alongside top-flight actors like Pete Edochie and Jim Iyke. And since then she has virtually been on a roller coaster.
But, now Ebube has a grouse with Nollywood. It's about stereotyping, which she believes limits the potential of budding actresses. She speaks on this and other intimate matters in this chat with Samuel Olatunji. Excerpts…
You have been around for a while but it doesn't seem you are getting your dues
I don't feel that way. I remember what it was like when I started in 2003. Although I won't say I'm fulfilled, I think I have come this far because of hard work.
I have been through the bad and ugly in Nollywood and I'm still going strong. Whatever I am today all started on the platform of Nollywood; being a household name all started with Nollywood. So, I don't think I'm not getting my dues. It's just that the industry is affecting everybody as it evolves. But so far, I am fine and happy with the way things are. I could be happier because it could be better. I give thanks to God (because) if I didn't make an impact, I wouldn't be where I am today.
What do you mean by it could be better?
Better in terms of pay. We might not be making all the money, but it could be better. Nobody will tell you he or she is comfortable with the pay. So, it could be better in that respect.
Also, the atmosphere in which we work could be better. Sometimes, you have to overwork yourself for just nothing, and we still manage to pull through all these things. It could be better in the kind of movies we do, better in terms of quality of the movies we do, better in the scripts we interpret, better in hands coming into the industry, better with people investing in this industry, and better in terms of government and corporate bodies endorsing our efforts. It all starts from us. I know it can still be better with everything in the right places.
For you, how did it all start?
I started out in the South East. I was doing my IT (industrial training) and I was trying to get something doing at that point in time. You know, during IT you seek the best firm to work with. So, I was trying to look out for what I could do with my time without being in an office and at the same time making money.
I made up my mind to try acting and I called up a friend in the industry. His name is Obinna. I told him I wanted to act and how could he help? He told me about an audition coming up and I said I would try it. He told me where and when. So I went for the audition and got a role, in fact, the female lead role in that movie and since then I have been acting.
What was the title and who else featured in the movie?
The movie was titled Arrested by Love and Jim Iyke, Pete Edoche, Chigozie Afuranya and others featured in it. It was a star-studded movie. That was the movie, like I always say, that made me what I am today. Arrested by Love was a success story. It was directed by Ifeanyi Azodo. It came out well and people loved it. They eventually called me for another movie and I did the second one, the third, the fourth and that was it.
For Arrested by Love, how much were you paid?
(Laughs) I was paid N40,000. I think it is because it was a lead role. I remember that I bought a phone from the money because I needed a phone badly. The one I had then was bad and that was when GSM just came in. So, getting a phone was a big deal. I spent the rest of the money on myself and my family. It was whole lot of money for me then.
What were you doing in the South East?
I was in school, studying Mass Communication at Federal Polytechnic, Oko (in Anambra State).
Were you staying with your parents?
I was in school. I came from school to do the job. I actually grew up in Delta State but I was schooling in Oko. So, during my IT, I had friends around. My parents now live in the South East.
Was it okay to be called a Warri girl?
I'm not a Warri girl. Being a Warri girl means a lot and I don't think I am one. I grew up there and I cannot run away from that. I spent most of my life in Warri.
So, you're a 'butter' (silver spoon child)?
Maybe (Laughs)
What does your parents do?
My dad and mom are in business. My dad lived in the North, Jos to be precise, but now he is in the South East. I don't want to go into details.
What was growing up like?
Growing up was fine, although I wasn't born with a silver spoon in my mouth. I had the best a little girl of my age needed and wanted. When I was born, my mom was still in school, so I had to live with my uncle and my aunt. That was how I found myself in Warri. My uncle, in fact, was the first father I ever knew. Everybody thought he was my dad. He will still be my dad till tomorrow. I called him daddy until I grew up to realize he wasn't my biological father; but he is my dad anyway.
Well, I don't have much of a story to tell. What I remember very well was that while growing up, I was very comfortable but along the line, things became tough. In fact, that was one of the things that brought me into acting because I tried to do something to help my family, to support them in my own little way.
The hardship started after the Jos crisis. My dad lost a lot and it wasn't easy for him to provide like he used to. So, because we were used to these things before, it was very hard for us to cope, especially my younger ones. My mom didn't want to tell us things weren't all that good but I knew something was wrong. My mom did a lot, because she wanted to make us happy.
Whenever we asked her when daddy was coming back, she would say 'don't worry, he is coming back very soon.' Then, I had finished secondary school, so I was aware of the situation but my little siblings didn't understand and my mom wasn't ready to spell it out. I started to help in my own little way. That was one of the things that actually led me into acting because I wanted to make money somehow in a decent way.
Does any particular experience come to your mind?
I remember very well that we were living in a very comfortable house before we had to move to a smaller one. It wasn't funny and I kept asking my mom why we did this or that, and she would just dribble her way out by not telling us. But I knew things weren't what they were before for us. Obviously, we couldn't pay for the bigger apartment anymore and she still tried her best to make sure we ate, were clothed and all that, but the truth was, things weren't the way they used to be.
What does your name, Ebube, mean?
It means glory, miracle. My full name is Oluebube, meaning the 'glorious or miraculous work of God.'
How come you are the miracle child?
Looking at me, you should know (laughs). But really, I don't know. I have asked my mom but she hasn't told me anything. I know there should be a special reason for my name. The only thing she told me was that my grandparents needed a grandchild desperately and I was the first at that point in time. But I think there is more to it than that.
Do your parents live together?
Yes, of course. We are six children in the family and I'm the eldest.
Tell us about your siblings. What do they do?
My immediate younger sister, Ifeyinwa, is doing her national service. The other one is also serving (NYSC). One of my brothers is in the Anambra State University. I have another little sister who is in Awka and a little brother in school.
Would you like to have six children too?
I won't say yes or no. I don't think I want to have up to six children, but who am I to dictate? God has a plan for me, but personally I wouldn't want to have up to six children.
What has acting been like?
I would say it's been kind of slow now for me, reason being that the industry generally is facing a lot of challenges. But I won't say I'm waiting for the right script to come. I would rather say I'm waiting for the right pay. Things are slow; everybody knows that. The right script could push me to do it but it's all about choice. If I want to do a script with or without money, it's up to me. But it has been slow and it is affecting everybody. That is the truth. There are some people working because they want to.
When last were you on location?
A month ago, in Calabar. I have done three movies this year.


Ebube
With who?
With Muna, Ngozi Ezeonu and Olu Jacobs. The story (of the movie) is centred around my brother. Muna was my brother in the movie. Jacobs was Uncle Olu and Ezeonu was Aunty Ngozi too. But the story was weaved around him.
What is your impression of Nollywood?
Honestly, the industry has been growing and is still growing. Nollywood has been hit by so many things that sometimes I wonder how we all manage to come back and still strive hard.
It is like when you think Nollywood is going down, it picks up again. It's been off and on. I think maybe it's the industry or the society, but generally Nollywood has strived to grow. Just like a baby growing without anybody to pamper or monitor it and make it feel good. It is not easy.
Nollywood has grown so big and I think that is why it lacks adequate management. I may be wrong. Maybe it is the Nigerian factor. Like I always say, we make big things out of nothing, because I know the atmosphere we do our job. I know how conducive or otherwise it could be and we manage to do this job.
But it comes out and people start criticizing it. Of course, there is room for criticism. If you don't criticize, we won't work harder. We still try to come up with something and a whole lot of my colleagues have been doing us proud, trying to give Nollywood a face and telling people out there that we can do these things. It is not easy doing a movie yourself. It is your own idea, your brainwork and your creativity. We are trying and I believe we will get there one day.
What aspects of Nollywood still leave a lot to be desired?
Everybody as a whole; everything in Nollywood has to be handled very well. That is the truth – starting from the movies we do, the quality of the movies, the quality of the script and the distribution team and a whole lot of things. Some say some actors and actresses are professionals while some are students. I don't see it like that. There is an adage, which says: 'When you're in Rome, you behave like the Romans.' This is Nigeria. It is all about taking the bold step, which a lot of people are doing.
Before now, Nollywood was controlled by marketers, putting in their own money and trying to make things work. Right now, a lot of people are trying to come into Nollywood and invest their money in it. Piracy has to be checked. An efficient distribution mechanism where we can sell to people out there at the right time before pirates is urgently required, because it is all about putting in money and making money.
We used to have seasoned people handling these things. Thanks to some people. We have film schools in Nigeria, owned by these same Nollywood people. This basically means that we are doing some things right. Believe me, the system here is different from others elsewhere. So, if you come here, you learn and adapt in your own way to make it better. You cannot just come in and say you want to change it. It doesn't work that way. It's a gradual process.
In what way has the 'Nollywood factor' affected you?
Firstly, everybody knows about how actresses are stereotyped. When you play one role, that is what you keep doing. That is one thing about Nollywood. As an actress, you should be able to explore and play any role. If the producer of a movie or director calls you up and tells you this is the role you are playing, you should be able to go through it and get the option to influence your role. I wish it could change a little bit. They should be given that opportunity to prove that they can do other things.
Which actors do you like working with?
I like working with everybody; the good ones, the bad ones. I cannot name them.
What about actresses?
Same applies to them. You know one thing about this job, even if they are your enemies, you just have to click for you to do something good. I don't want to name anyone but I have my favourites. I just have to work with everybody whether I like it or not.
For instance, is Omotola your favourite?
I have not worked with her but I enjoy watching her and I love her skills.
Genevieve
She is one of a kind. She is one of the best things that happened to Nollywood.
Mercy Johnson
She is another skillful actress, who is able to play different roles. She gave acting another face. She is just so different and it works for her.
Ini Edo
I have been following her from when she started and I'm so impressed about what she turned out to be. Ini has survived against all odds and is still there doing her thing. She is very strong and I admire her for that.
What about Rita Dominic?
I like her. She is stylish in her unique way.
Jim Iyke
Jim is a very good actor and very funny. He has this sense of humour people don't appreciate and that I like so much. I watch movies a lot. I know everybody by whatever they do. I like Jim, he is quite skillful and I like the humour he puts into acting.
Desmond Elliot
Des? He is good as well. I have worked with him and he is very good at what he does. In fact, he is among those that make us proud. We are proud of Nollywood with the likes of him.
Ramsey
Ramsey is very talented. He has been there way back and he is still there and I can still sit and watch his movie over and over again.
Emeka Ike
Emeka is so intelligent and skillful.
Have you kissed anyone before?
(Laughs) No!
The truth?
Yes, the truth.
But have you had to kiss someone and wished it was real?
No! You know, because of what you are doing at the time, you are just focused on doing it right. Maybe off the set, I may feel that way but not while working.
For example, if I was an actor and I kissed you, I will wish there was no camera
I understand what you are saying.
Do you live alone?
Yeah, I live alone.
No sisters, no friends…?
I don't live with friends, but my sisters come around on holidays. So, I don't live with anybody.
How do you differentiate good men from the bad ones?
You wouldn't know, but I think I'm skilled in that. I can tell your kind of person even over the phone or before meeting you. When I meet you I could read and tell who the person really is. I can tell from the way you talk, everything about you and I don't think I have ever been mistaken.
What about women?
I also know them.
Why do you still date a man when you know he's bad?
Have I dated any bad person?
So why have you not walked down the aisle with any man?
Honestly speaking, I've never been in a relationship with a bad person or been in a relationship that is breaking up because the person is bad, no. There are always other factors surrounding what we do that have always been the problem. Being in the limelight on its own is a problem. Everywhere, when you are in the limelight, you are in a relationship. It doesn't work out sometimes not because the person is a bad person.
It is always, maybe, you are too busy, you love your job so much, or you are always in the news. The press always has something to say about you and they start checking. You don't make a good wife. So those are the factors. Your experience cannot be different and this is Nigeria. People listen to what others say. So those are always the factors. And walking down the aisle? When I'm ready for that I will do so.
Do you understand that for reasons that are not of your own making some of these things get at you?
Yeah, of course, I feel bad because even when you still try or go out of your way to prove to this person that I'm an actress, it doesn't change who I am. It is like you are so desperate. The fact that you are an actress means this is how it ought to be. Don't try to prove otherwise.
This is what you people do and this is how it is. It gets to me, honestly, because it is something I do and it is something that is real. But it is so bad even when you try so much, you get into this thing and it still doesn't work. It takes a strong person. You have to be strong-willed, with a lot of courage and playing deaf to a lot of things. You live as if you are not human. Some mothers will tell their sons: 'You want to date an actress; you want to marry an actress. Do you mean you don't want your marriage to last?' That is the impression parents have about actresses. That is just the fact.
Who is the man in the picture now?
He doesn't like being talked about.
What will it take to date you?
(Laughs) Well, I like being happy. I like being pampered and I like a God-fearing man like every spinster would say. He must be honest with me and appreciate me for being Ebube. He should be able to see beyond what I do on screen; the real me. He shouldn't see me as a movie star. He should just appreciate me the way I am.
What are your strongest points?
I think everything about me is good.
Your weaknesses?
I don't know. I think people around me can answer this question better. I tend to prefer being alone, which is not good, because you cannot exist on your own. It is not a bad thing though and I don't think I have a major weakness. I am not perfect.
What are the foolish things you have done for love?
I have stooped low to do certain things that I would not naturally do. And when you do those things people would say you are desperate because you want to be a wife. They naturally expect that nothing good can come from an actress. They expect that actresses cannot be good and faithful wives, and that is not true.
Sometimes, I feel the only bad thing about me is being an actress. People don't say it to your face but they show the attitude that tells you that you are not wanted.
Have you ever felt you shouldn't have lost out in a relationship?
That was before I started acting. I was living a normal life, but as an actress you cannot anymore whether you like it or not.
We are still friends, but he is now married.
So you would have loved to be married before you started acting?
No, I was younger then. But if I were married, it would have been a lot easier, because I would have been in it and known what it is all about. This could have helped me in making my choices.
How many times have you fallen in love?
Just twice.
How old are you?
I'm in my twenties.
Do you have any regrets?
No, I don't have any. Everything that happens to you in life is for a reason. It prepares you for the next level and makes you stronger.