FROM PARALYSIS AND ABANDONMENT, HE ENROLLED IN SCHOOL AT 16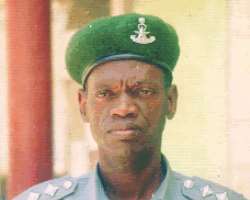 For Usman Abubakar Mareri Gusau, popularly known as Mujaddadi, it could be said that the heavens were closed from the time of his birth till he was 16 years old. This is because of the problems he encountered right from his childhood. He was afflicted with all kinds of diseases.
Abubakar was paralyzed, abandoned and withdrawn during this time. He passed through the torments of ailments like measles, malaria, leprosy, sleeplessness among several others too many to be listed here. The result of this multitude of afflictions was temporary paralysis. Not just that, even care givers and those who should attend to his health were fed up with him that hospitals rejected him because they could not find cure for his myriad maladies.
His family thought it wise to move him away from other human beings into a bush in his village - Marere in Gusau LGA of Zamfara State.
In fact, he was abandoned to waste for several years, groaning in the pains of his infirmity.
One fateful day however, God opened his heavens through his father'a friend, Sheik Abubakar Gumi (now late), a popular preacher and Alfa in his town. The Sheik advised Abubakar's father to bring him to town where he could relate with his mates and probably learn a trade with which he would be useful for himself.
When they took him there it appeared that God was just starting with him. He made friends with boys of his age and soon found emotional relief from the psychological trauma he had from losing his mother at adolescent age. Concerted efforts were also made to administer local herbs on him which made his condition to improve. Soon he began to get off his ailment, quite miraculously.
Abubakar began exhibiting his talents in natural medicine and blacksmithing. He made friends with the son of a local blacksmith through whom he learnt the trade with the hope of making something out of it.
Again, perhaps by the leading of the divine, the Sheikh advised Abubakar's father to see to the possibility of educating Abubakar, his sixth son. That posed a little puzzle as he was already16. After his father had agreed to send him to school, the question then became which class Abubakar should be admitted in. After much deliberation it was agreed that he started in primary 3. Incidentally, that later turned out to be a step to greatness in the teen's life – the twilight of his turning point.
He soon proved that he is a genius as he spent only two years in primary school before proceeding to the college. With a little knowledge of Arabic he had gatheredinformally from his dad while in the bush, he passed the common entrance in class four and gained admission on state scholarship into secondary school, Sultan Abubakar College, Sokoto. As God would have it, his leprosy was already gone by then. Once in the college, Abubakar faced life with a bull's determination and vowed to get the best which has eventually come his way now.
After his college education, he applied for training at the Police Training College Sokoto. Through the Gusau Local Government scholarship, he was also trained at the College of Legal and Islamic Studies, Sokoto. Eventually, he was fortunate to be selected for training at the Nigerian Customs Training College,
Goron-Dutse, Kano from where he later got commissioned as a Customs officer. He is currently serving with the Nigerian Custom Service and attached to the Seme Border Command, Lagos.
But what is more remarkable about Abubakar is that he has developed tremendously his other gifts in medicine and technological prowess, which has eventually become his hobby. Today, Abubakar has a trado- medical clinic and has healed thousands of people everywhere he was posted to work. Through the headquarters of his clinic in Zamfara, he has trained and employed hundreds of Nigerians. In addition to this, Abubakar has used local materials to craft several technological instruments like laminating machines, borehole drillers, mini-machine gun, loudspeakers and few others.
Sharing his dark days with Saturday Sun, Abubakar sounded philosophical as he relayed a story of a write-off who rose to become an asset to his society. 'I am Usman Abubakar Mareri Gusau, popularly called Dr. Mujaddadi, which means renaissance, rebirth in Arabic. I am so called because of the wisdom, natural talents in native medicine and scientific knowledge God gave to me. I was born in Marere village, Gusau Local Government Area, Zamfara State about 50 years. I lost my mother when I was just a toddler. That I think was when my problem started. I was denied of adequate motherly care. My father is a polygamists and I am the last born of the five children of my mother. So, when my mother died Ibecame helpless. I was attacked by several diseases ranging from measles, sleeplessness, malaria, typhoid and several others I cannot remember now. This eventually rendered me paralysed as I could not walk for several years until I was 16. It was so serious that we thought it was a spiritual attack as I suffered several inexplicable hazards.
'There were times maggots were coming out from my body. Again, there were times I would see snakes of several colours wrapping me up and I was the only one seeing them. There were also times I lost my sight for months and was seeing strange needles pricking my eyes and I was really crying. My relations could not help however hard they tried. It was only my father that put in so much effort to solve the problem. It got to a point I was practically abandoned in the bush in my village in Marere as my condition worsened.'
'This lasted till I was above 15. A rescue came when a renowned Muslim leader and preacher, Sheik Abubakar Gumi, who was then a friend of my father, Malam Abubakar Yoidi Mareri Gusau, himself a preacher, advised that I be brought to our local government area in Gusau to learn a trade or go to school. My father at first was reluctant. Probably he had thought I was a complete write-off. But then he made up his mind to take me to the town and sourced for local herbs to heal me.'
'In Gusau, I started socializing and had friends and was soon getting along, leaving behind the emotional torture I used to have for missing my mother. Miraculously, through concerted efforts of both orthodox and traditional treatment, I was getting whole. I first started learning blacksmith from the son of my dad's friend. Then my dad's friend again advised that he enrolled me in the only primary school in my town then. JNI Primary School, Gusau. Then I was close to 16 and that raised the problem of which class in the primary should a boy (not child) of 16 be enrolled in. After some deliberations, they settled for class three.'
'The opportunity to be educated marked a major turning point in my life. With a little background in informal Arabic education from my dad in the village, I was able to outsmart everyone in class and learnt very fast. Eventually I sat for the common entrance at class four and surprisingly I passed and enrolled in secondary school. After secondary school, I had a stint in the Nigeria Police.
Later I went for a diploma program which further enabled me to do several trainings in the force and eventually got into the Nigerian Custom Service in 1989.
Scientifically inclined
Right from childhood I had inclination to science. I was always chided for damaging electronic gadgets at house. I was naturally inclined to dismantling and reassembling them. When I was fully grown, especially when I was completely healed, I began to learn and practice this craft. Now I manufacture things like laminating machine, water borehole pump, ice- making machines as hobby. I have even started an outfit where I train other youths who have such gifts. I am member of a 15-man committee on traditional medicine of Kano State. I am also the vice chairman of the Nigerian Craft Council, Kano as well as a member of the Zamfara State Chamber of Commerce, Industries, Mines and Agriculture.
Trado doctor
I have also founded a trado-medical clinic called Mujaddadi Trado-Medical Centre, Kano, through which I administer traditional cure and train youths on how to use herbs to cure all sorts of ailments. I have also worked with various government ministries in training youths and giving seminars on trado-medical care.
I am multi-talented as I also make furniture and sew clothes. I have workshops for practicing these trades and they have added to my source of income.
Sometimes I am called a mad man because of my unusual talent in all these areas. There are times I would abandon my family and go to secluded places to work.
Fulfillment
Abubakar has found himself fulfillment from a hopeless background of abandonment in his village. Today, he is a successful man in any form of measure. He is married and has children, with two of them in higher institutions. When asked of his dream for the future, Abubakar said, 'I want to train as many Nigerian youths as possible on trado-medicine, make as many machines as I can, and cure as many patients of all kinds of illnesses as possible.'