CREDIBLE ELECTION IS DEBT JONATHAN OWES NIGERIA – OKEI ODUMAKIN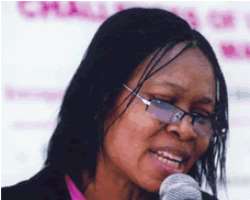 Dr. Joe Okei-Odumakin is a human rights activist married to an activist, Yinka Odumakin. Last month, in Benin City, Edo State, she took on former military dictator, General Ibrahim Babangida at a rally organized by the Edo State Government on free and fair elections in Nigeria.
As expected, she was part of the Save Nigeria Group (SNG) protest march in Abuja in early February over late President Umar Yar'Adua's absence from the country for a long time arising from his health.
In this interview, she takes on President Goodluck Jonathan challenging him to organize a free and fair election in 2011.
How would you assess the nation's democracy?
This is a country where things are not working. First and foremost, our vote does not count and we do not have democracy. Look at our polity; it was so exciting when Ogbulafor, the former chairman of PDP said that PDP would rule for 60 years.
But now we don't have democracy, everything is a family affair. The situation is so bad in terms of security of life and property. All the assassinations that have taken place, starting from Dele Giwa and even the recent ones, the perpetrators, of the dastardly act, have they been brought to book? So, it has emboldened them that they might be right in their thinking.
In terms of our constitution, we've been agitating for convocation of the sovereign national conference. But up till this moment, nothing has been done. Most of those in the National Assembly got there through the help of their godfathers. That is why they do things with impunity.
It is a pity that we lost our president and we mourn him. But we saw how the cabal held this country to ransom.
Why was it difficult for the executive council to pass a resolution that the president was incapacitated? Why did they have to hold this country to ransom until God intervened?
You found out that economically, we are not buoyant and the level of our currency is not strong as it should be. We also see that it has not been well in terms of education. We have tales of failure in NECO and WASSCE. Our universities were shut for months, and we found out that our students' output has not been encouraging and they are not putting in their best .The people at the House of Assembly are also unable to ensure that our budgets are fully implemented.
When Yar'Adua was alive, we had high hopes, but at the end, what did we have? We had an executive that was not encouraging.
What do you say to the aspiration of former president Babangida contesting for president?
Until Gani Fawehinmi died, he was still talking about the assassination of Dele Giwa.We have not uncovered his killers. What we are now hearing is that Babangida is telling the people of this country that he wants to contest. After eight years of political deceit, he annulled the most quiet and peaceful election. We lost the man and the mandate and we also lost Kudirat Abiola and several others. So, one really thinks that in a country like ours, Babangida should be terribly ashamed to aspire. What did he forget? What does he want to do?
Many people said he has learnt his lessons, and that he will make amends, But one does not think that if our votes really count, he should be displaced and embarrassed out of the system. We are really going to remind the people of this country series of atrocities IBB committed, so that at the end, our people will know, that really, even if the cabals want him, he will be rejected at the poll. That is why we need electoral revolution. We, as a people need to stop agonizing and start organizing. We have to work collectively to ensure that people who have not registered are registered. Rigging is not done on the day of election, but starts by not registering some eligible people. It also starts by allowing those who are not up to age 18 to register. It is also due to incorrect voters registers, when you have ghost names and all that within, and then voting, and ensuring that people stay there, so that their votes will be counted in their presence. So the entire press will have to pay for democracy people have to be vigilant, to ensure that things are not taken for granted.
Do you think the rights of women really count in our country?
Well, women, in the Beijing conference, over 30% that women are supposed to be given for elective position is not given, women have their rights trampled upon. People were dismissed from the bank, when they are exercising their reproductive rights. They were on maternity leave when this happened, whether they are married or not, there will be rules and regulations and the moment the person is pregnant, they show the person out.
Women again are the vulnerable ones; they are the ones who suffer when there's war. They are the ones, who are impoverished, they are the ones who are used and dropped. In politics, they will not have anything to show for it. So it is time people realized women have rights, and that we also have to stand up in unison. Let us not turn ourselves to object of pity, we have to bring issues to the front burner and we have to ensure that if we seek for elective position, people have the idea that we can be used as spare tires. We should not only be deputies and we should not just aspire to the lower sectors of the society.
So, one thinks that men and women are equal partners right from the time of creation and we are supposed to be helpers. So, a country that relegates women to the background, might find it difficult in terms of progress. So, women should be empowered, they should be given opportunities to thrive, and encouraged, to excel. That is what can ensure peace, progress and stability in this country.