CHELSEA GEARS TO WORSEN WIGAN'S WOES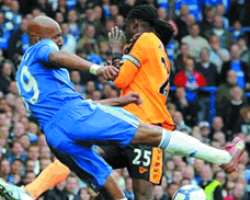 Today at the DW Stadium, Wigan Athletic will be swimming against the tide, facing defending champion, Chelsea, in a Premiership duel. Recall that Wigan slumped to a calamitous 8-0 defeat to give Chelsea the leeway to winning the Premiership diadem last season. Unfortunately, between then and now, nothing appears to have changed regarding the fortune of Wigan.
It showed in its 4-0 drubbing in the hands of newcomer, Blackpool last weekend right at the DW Stadium. Therefore, facing Chelsea today will appear as a nightmare.
Beginning with this game against Chelsea, manager Roberto Martinez needs to do quite some uncommon things to re-establish confidence in the team. He needs to infuse into it a mentality that will give it the winning edge, as another defeat will plunge the team further into a cesspool of misery.
Already, the players have admitted poor performance in their opening game. Someone like Charles N'zogbia was left out last week for demanding exit from the team. The manager, therefore, needs to bring back both the winning spirit and the 'we' feeling back to the team to give it the fighting morale.
With the crisis in Wigan, Chelsea looks favoured to run away with victory. Who else will bury the team if not Didier Drogba, who opened his goal account last weekend with hat trick? After surviving the race for the Premiership trophy last season, Carlo Ancelotti now knows better that winning the championship begins with winning early games. With the calibre of players in his line up, he will go all the way to win this one to show that the departure of Joe Cole to Manchester City counts for naught.