2010: I WILL NEVER QUIT, NO MATTER WHAT – ATIKU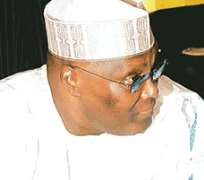 Atiku
Last Sunday, former vice president, Alhaji Atiku Abubakar, formally declared his intention to contest next year's presidential election. This is not the first time he is throwing his hat into the ring, in his quest to become the country's chief executive. He had tried in 1993, in the Social Democratic Party (SDP) and failed to get the party's presidential ticket. In 2007, Atiku ran for the office of president. He was, first, frustrated out of the Peoples Democratic Party (PDP), a party of which he is a founding member. He sought refuge in the Action Congress (AC), on whose platform he eventually contested the 2007 presidential election.
Prior to the election, in 2007, Atiku, Turaki Adamawa, had engaged his former boss, ex-President Olusegun Obasanjo, in a bitter face-off over the latter's undisguised plot to tinker with the constitution to enable him to win a third term in office. Although at the initial stage of the confrontation, not many Nigerians were sure whether the former number 2 man was doing what he was doing for altruistic reasons or out of sheer inordinate ambition. But it didn't take long before Nigerians saw through Obasanjo's scheme, and joined Atiku and other well-meaning leaders to amputate the project.
This pained Obasanjo and he made Atiku pay dearly for it. He squeezed the former vice president into irrelevance and redundancy in the Presidential Villa, and eventually made the PDP too hot for him to stay. If anyone thought Atiku was down and out, especially since he could not become president through the AC ticket, that person had a big surprise coming. Atiku could be said to have risen out of the ashes of his political travails and have made a dramatic return to the PDP. He has also joined the race to occupy the exalted office of president, despite a stiff opposition from his home governor, retired Admiral Murtala Nyako, and some people within PDP.
After his formal declaration to contest the presidential election last Sunday, Atiku explained his current mission to media executives the next day. On Tuesday, he granted a team of senior editors of The Sun and The Spectator newspapers a no-holds-barred interview, in which he addressed some burning issues pertaining to his ambition, his most recent struggles within the PDP, as well as a recollection of his time under Obasanjo as Nigeria's vice president.
He appraised the journey so far, and declared that no one, no intrigue, no manipulation could stop his political train this time round. He said, pointedly, that the PDP was stuck with him on the issue of waiver because he didn't need one but if, indeed, he needed, he had applied. And he was supremely confident that he would get it because several top members of the party who left about the same time with him are not only back, some of them are actually holding positions within the party. A case in point is the party's national chairman, Dr. Okwesilieze Nwodo, who he said, not only left the party with him but also was actually his returning officer in AC during the 2007 presidential election.
On President Jonathan, who, reports during the week said, would formally declare his intention to run in September, and for whom close 100 associations are rooting, Atiku said he was not intimidated by the president, or the so-called power of incumbency, or by anybody or anything at all, saying: 'Good luck to Jonathan.'
Excerpts:
Let's start from where we left yesterday…
(Laughs…) I thought we had exhausted all issues yesterday, but if we are starting from where we left off yesterday, good enough.
You talked extensively about your sojourn in AC, and last night, while we were reflecting on what you said, our minds flashed to the issue of betrayal in politics, which is getting common in Nigerian politics. As someone who was at the centre of it all, how do you feel that this issue can be resolved?
Okay, first of all, human beings, by their nature and creation, are doomed to betrayal. What I mean is that I want to go back to the spiritual books of the two main religions that we know, which are Christianity and Islam. If you read these books, starting from the Christian faith, you will find a lot of betrayal. You will find people who betrayed Jesus Christ. The same thing applies when you also go to Islam, you find people who have betrayed Mohammed. So, what I am trying to say is that betrayal is a feature of the human mind. But that is not to say that all people are subjected to that. Therefore, when people come to me and start talking, and saying: 'this is politics', 'this is politics', 'this is politics;' I tell them, 'no, it is not politics. It is human beings.' Because politics has no mouth, no ears, and it doesn't walk. It is human beings who practise politics. And it is either they practise it well or they don't. So, the issue of betrayal is not anything new, it is part of human creation.
We are worried about what is happening at INEC, that is the preparedness of INEC to conduct credible elections. Do you think the present INEC, with the time at its disposal, will deliver the goods? Do you have confidence in its ability to do it?
I have confidence in the ability of the leadership of INEC. What I am seriously doubting is whether time is on the side of any one of us all - be you INEC, government, political parties or otherwise. My feeling is that time is not on the part of all of us. It will be a miracle if we can keep to the timetable given by the electoral act.
Do you support those who are clamouring for a shift in date?
I don't want to support those who are clamouring for a shift, unless I am satisfied that the electoral commission has done all that is humanly possible to conduct elections within the stipulated time and they are unable to do that. It is not good to encourage them (to work for a shift).
There was a press report to the effect that the president is under pressure to veto the new Electoral Act that will, hopefully, guide the elections, perhaps, because of certain provision in there. Have you seen a copy of the new Electoral Act?
Yes, I have seen a copy of the Electoral Act and I have read it from the first page to the last page. There is nothing substantially different from the various acts. I think the only novel provision they have introduced in the Electoral Act is the attempt to institutionalise internal democracy within the political parties. It would appear that the political parties, on their own, have not been able to face that challenge and so the National Assembly took it upon itself to ensure there is internal democracy within the political parties, making it mandatory by law. It's not that it was not there before. For instance, the constitution provides that political parties should hold regular elections. Most of them have not been doing that. Even by their own constitution, they are supposed to hold regular elections, but most of them have not been doing that. So, I think what the National Assembly did was to try to introduce laws within the Electoral Act that will actually compel the political parties to institutionalise internal democracy. These are two novel provisions that I have seen in the electoral act.
What of the provision for nomination of delegate?
Yes, that is part of the internal democratisation I am talking about because the law or the act provides for two types of primaries, direct and indirect primaries. So, you cannot go beyond that. So, it is up to each political party to pick which mode of primaries it wants to implement. It may go for direct primaries, it may go for indirect primaries, both of which we have experienced in this country. When we were in SDP (Social Democratic Party), our first primaries were direct primaries, and they were for the general elections. It entails all members of the party going to the ward level to vote for the candidate of their choice. This is one. The second one we did were indirect primaries, which was then called Option A4. You emerge from your ward; from your ward you go to the local government and emerge; from local government you emerge to the state; and from the state you emerge at the national convention as the party's flag bearer, like it happened in Jos. In SDP, we practised both systems; so it should not be something new.
From all the political calculations that we have personally read so far, most people don't seem to give you any chance. Does it bother you?
At all.
Just this morning, we saw another one (graphic illustration on aspirants' chances) that gave you only Adamawa…
(Cuts in…) That is typical of THISDAY. That is devoid of any scientific or rational analysis because you know the guidelines for the delegates are not even out. So, you don't know whether we are going for direct or indirect primaries. And even if we are going for indirect primaries, you don't know the mode of selection of the delegates and you don't know how many delegates are going to emerge from each state. And then, for you now to just blanket the whole country, maybe on the existence of a draft guideline, which was meant to be released under the last Electoral Act, is, to say the least, … There is no way such a result can be obtained the way THISDAY presented it (on its front page illustration, in its edition of Tuesday, August 17). There is absolutely no way.
As a follow-up to the question that nobody seems to give you a chance, we see a contradiction. Now, you are a capitalist, so to say, but you are also a revolutionary, as it were. You are always fighting, challenging the system. Just this morning, one newspaper said you would sue PDP if it disqualifies you. To us, it is contradictory. You are supposed to be part of the system and here you are always challenging that same system.
No, not really. But then, you have to sanitise a system that is infested with injustice. You have to make attempts to do so. And when it also involves your human rights, unless you are prepared to sleep over your rights, which I am not prepared to, then you fight for your right.
But some people see you as part of the problem.
I'm not part of the problem.
They say that you are part of the whole system
No, no. When we set up PDP, that was not how it was. We were going for elections very regularly. People saw us going for elections and the other parties copied us. It was not the way PDP was. I disagree with you.
Why don't you just give up? Why don't you just say I have tried my best from 1993 up till now?
Why should I give up? It's my career. I will not give up. I will continue being in politics till I die.
What if they don't yield any space for you in PDP?
You cannot say that, please. PDP is not anybody's property. I am already there.
Because, even as we speak, they are already waving the flag of waiver on your face and all that…
Look, I spoke extensively about waiver yesterday (during his interaction with media executives on Monday. SEE BOX). I don't think it should be an issue today.
I don't know whether this intimidates you. As at the last count, this morning, 88 associations had sprung up, vehemently canvassing support for Jonathan. You can see giant billboards, and houses and vehicles painted with pro-Jonathan colours and line everywhere. Vigorous campaigns are also going on in the electronic, broadcast and print media. Does the fact that President Jonathan may throw his cap into the ring intimidate you?
Good luck to Jonathan. (General laughter…)
Perhaps, apart from Ghana, you know incumbents don't lose elections anywhere.
Nigeria should now be in a position to change, and I think we are ready for a change. I am optimistic.
It is easy to say. But looking at the system, and judging from our history, do you think if you were president of Nigeria, it would easy for you to relinquish power without a fight?
(Cuts in…) Look, I am not a quitter. If you have come here to corner me to quit, I am not going to quit. (General laughter…)
So far, some people have declared - Babangida, yourself, Governor Shekarau of Kano State, and General Buhari. And even if President Jonathan has not formally declared, his body language suggests he will run. Can you do personal assessment for us on all of them and tell us why you are far above all these people?
I am not saying I am far above everybody else. Again, it is also not right for me to try to analyse everybody's chances. I think our chances should be left to the electorate to decide.
No, just a word about them, not their chances. A word about each of them, vis-Ã -vis the kind of leadership they will provide. Why should Nigerians give you a mandate in 2011?
It is up to Nigerians. IBB feels, maybe, there were some mistakes he made before (during his eight-year tenure as military president) and if he is given the opportunity you know he won't repeat those mistakes and so forth. He has said that. As for Buhari, I haven't heard about what he really wants to do except that he wants to be president. So, it is really not fair for me to be analysing all these people.
What about Shekarau?
I have not even listened to his own announcement because I wasn't in the country when he did it.
Still on the power of incumbency, and we know that in Africa, incumbents are so powerful that they could use any weapon to crush their opponents, even you. There is this perception against the administration you and Obasanjo ran, about corruption and all that. Don't you think they could just go into the archives and bring out some files and wave some documents at your face to check you out of the race?
Why didn't Obasanjo do that? He couldn't do it because there was no document, and there is no document for anybody to wave at my face.
Not even allegations concerning transactions in BPE, when you were the chairman of the National Council on Privatisation?
They have investigated BPE over and over again. All the transactions that took place when I was the chairman of the National Council on Privatisation have all been investigated in and out. There was no paper they could just fling before me. There is none even now.
You were elected governor of Adamawa State in 1999, but you were later picked as vice presidential candidate. You were subsequently elected vice president. But you have never been president, which means that you have never had executive power as it were.
No.
So, why should Nigerians now give their mandate to somebody who has not been tried except in personal business?
I don't think your question is right.
You've never had executive power. You have never been a local government chairman. You have never been governor. You have never been president. It means you have played only supportive roles for eight years.
Yes, I played the supportive role for eight years and the experience I have garnered in those eight years are invaluable. Normally, in developed democracies, vice presidents are groomed to succeed and become presidents. So, I believe I have been groomed enough.
We went through your policy documents last night and I didn't see any revolutionary content in it, in the sense that people like us expect so much from you because, like you said, you have had the experience; you know where the problems are. But we expected a revolutionary document. For us, that document is more of mainstream. It's still very conservative outlook.
Maybe I am not being as revolutionary as you are. But definitely we have provided something different, something unique. I mean, if you compare us to others, they don't even have anything to present yet.
Of the all things you said yesterday (during the interaction session with media executives), on that document, we were interested in what you said especially in the area of power. It requires a lot of money and private sector involvement. In fact, all the programmes you enunciated there seem to hinge on the private sector. And I think your public/private sector experiences should help. On the issue of infrastructure, how are you going to get the private sector involved, given the instability in policy framework in the country?
You have to resort to a number of incentives to attract the private investment. You have to.
Long term, short term because the investors…
(Cuts in…) Yes. You can see that our policy document has short-term, medium-term and long-term programmes, outlined. But you know you cannot do much without attracting heavy presence of foreign investment. You foreign investments to be able to move and provide the infrastructure we need, the power we need, the health care delivery we need, and so on and so forth.
In the area of infrastructure, do you think it is something we can do under four years given…?
(Cuts in…) No, but the problem of this country is lack of vision. The problem is to have vision. And when you have the vision, and you start it, you must make sure that there is continuity in the implementation of that vision. As long as there is no continuity in the implementation of that vision, you are not going anywhere. For instance, if I spend four years and I go away, and the person who is coming does not believe in that vision, he terminates it. This is what has been happening in this country.
But when the late Sheik Al-Maktoum created that great vision for his emirate in Dubai (as a leading tourism and investment destination in the world), he sustained the vision. He continued with the vision. At his death, his son came and continued with the vision. After the son, his grandson came and continued with the vision. I give you an example: in 1972, I was a young Customs officer in Lagos. They (the government at the time) were then planning to build the current Murtala Muhammed International Airport. The Netherland consultants came and I was asked, as young as I was, to go and represent the Customs Department, work with them and give them what were the Customs' requirements for a complex of that magnitude as they design the airport. So, for months I was sitting down with them, and the airport was supposed to be designed in phase 1, phase 2, and phase 3. Then, they completed all the designs. We had phase 1. But today, 40 years after, we have not had phase 2! We have not had phase 3 and the whole airport land has been encroached and taken away. Now, if you want to have a standard international airport, you have to move out from that site to acquire another site to be able to move. So, this is why when you have a vision, you must not only see the vision through, you must also make sure that there is continuity in the implementation of that vision otherwise you are not going to get anywhere.
We think part of the problem is not that we don't have vision but most of the time, our vision is one-man driven and that is why people don't see the vision. Only one person sees the vision.
No. That is why, when you see our own document, there is a difference on how we approach our vision. We are very, very, very emphatic in our policy document. It should not be seen as a one-man vision. It should be seen as our vision, our national vision.
So, one-man vision is the biggest problem in this country?
Yes.
Some people have said that the problem of this country also has to do with leadership and followership. Do you agree?
Yeah, I mean the leadership is to carry the followership along so that they can be part and parcel of the vision. When a new leader comes and is trying to veer off from the vision of the country, there will be well-meaning people who will draw his attention to it and say 'look, this is the vision of this country.'
Let us take you back in time. In the days of the late General Shehu Musa Yar'Adua, as a politician, we could see how people like you emerged under his tutelage. But if you look at the polity now, we don't seem to have young leaders emerging to be major players at the national level. Most of those players at the national level are the same young people that people had read about in Social or Civic Studies in primary school in those days. People who read about them grew up to be adults and still met them still sitting pretty in power or around power. How do we grow new leadership in this country?
Well, I know. As you rightly said, that under the tutelage of the late General Shehu Musa Yar'Adua, we had a grooming process, a grooming mechanism or whatever you may call it. And we could tell you who will come after each other. But you know that organisation was bastardised by my former boss (ex-President Obasanjo) who felt that it was a threat, and we have been making attempts now to reunite and to try to carry on with the vision of our late leader. So, in that process, you always have people being trained and groomed coming up all the time. And I felt it was a very, very wonderful experiment. It worked very well in my state because in my state, I could tell you who will be this and that, and that, and that, in the next few years because there was a mechanism. There was a structure of succession.
Do you have that with you now? Are you doing that?
We are trying to reinvent it again. As I told you, it was when my boss tried to dismantle PDP and the PDM movement that most of us left the PDP, after I had left. And they left some remnants in PDP. When we now came back, we have met a couple of times to try to reunite those who remained behind in PDP and those of us who came back into PDP. We have had very useful meetings. We have also asked for the recruitment of the younger ones from the various states. And they are being recruited.
In that case, there is hope that there will be a new leadership at that level because people are saying that IBB and co. should retire and let's have new people. There are others who keep asking that if they retire, where is the alternative.
If they retire, really, where is the alternative? Where is the guidance? Where is the wisdom? Where is the experience? You need these qualities of the old and the dynamism of the young to streamline and move on.
Are you in any way subscribing to what Babangida was quoted as saying about the youth having failed to provide leadership?
No, No, No! I don't think the youths have been given opportunity to provide leadership. But in a number of respects, they have. For instance, if you go to the local government level, you will find that most of the people who are running local governments are young men. If you go to the state assemblies, you will find that most of them are young people and they have started their careers. I have met members of some states' assemblies who have been in their respective assemblies since this political process started in 1999, and who now say they want to move to the National Assembly, and so on and so forth. This is how you pursue a career. Once it is not interrupted, I believe we are going to have that.
Still talking about leadership, your former boss kind of institutionalised himself in PDP, and in the process, blocked all the reforms that the people were trying to carry out. Do you think it is possible to dislodge him?
I think he is already dislodged. He is already dislodged.
How? He is the chairman of PDP's Board of Trustees.
Yes, he is the chairman of BOT but that position is merely an advisory thing. Ok, tell me, if he has not been dislodged, why is it that they couldn't get what they wanted at the BOT? Why is it that they couldn't get what they wanted at the NEC?
So, there is hope that very soon Nigerians will see a brand new PDP? Is that what you are saying?
Definitely, by the next elections, you will have a brand new PDP, a reformed PDP, a PDP that will lead with the concept that we originally conceived it to be.
Coming back to you as a person, and looking back at your life so far, what are your flaws? Your flaws as vice president of Nigeria, when you were? Your flaws as a candidate in this race? And your flaws as a businessman?
(Pauses for a moment…) This is a complex question. We are all human beings and, therefore, liable to making mistakes. In business, I have done remarkably well because all my businesses are run successfully. Very, very successfully. I have absolutely no regret. In politics, I think I have been too trusting, and people have taken advantage of that to betray me. And I have also, in one way or the other, enjoyed helping people grow or bringing up people. You help people grow, you bring up people, then, they turn against you. But I wouldn't say these are flaws, they are just human characteristics as we stated.
Your Excellency, your country has been so nice to you, what more do you ask of Nigeria?
For Nigeria to give me the opportunity to also be nice to Nigeria, and to pay back.
You have everything money can buy, so to say, but here you are trying tooth and nail to run the country. Is it a personal ambition? We mean some people will have everything and, then, say it's okay what else can I try?
I said it yesterday that if you just consider your own personal success only, you will say let's go. You will go to your village and build a palace and everybody else is living in a hut. How would you feel?
What is the turning point in your life? When did you make that dramatic turn that propelled you on an irreversible trajectory to success?
It has always been there even as a student.
What has always been there?
It is because of my background, I mean coming from nowhere and then brought up by the public money. Free education, free this, free that and I just felt there is nothing that I can do other than to pay back.
What particular event turned your life around? At least you didn't grow up to be Atiku, the powerful politician; Atiku, the rich man; Atiku, the successful businessman. At what point, in your life, did you make that dramatic turn? What year? What point? What event?
You see, even as a kid, going to primary school, I had traits of wanting to help my fellow students. So, I think it is something that has been in me right from creation. In fact, when I am being given food to take to school to eat, when I got to school, I used to put the food on the table for everybody to eat. So, I never went to one corner, like most children do, to eat the food alone. I think maybe because I am the only child of my parents and I was feeling lonely. I had no brother, no sister, no cousin, no nephew, nobody. And here was I, alone in the world. They just brought and dropped me, and pronto, they were gone. So, everybody who has helped me in this world is not my relative.
So, that has been the compelling force?
Yes. My life was entirely a life built around friends. As bad as people generally are, they are still some extremely wonderful people in this world. I remember that by the time I left my job as a civil servant, many friends that I was nice to offered me directorship in one company or the other with shares to boot. So, there was never a time I lost any social status and it's all through friends.
Could your background have driven you so hard, so unrelenting in most of the things you have done so far? Showing position aggression in business, positive aggression in politics…
Yes. Okay yes. Turning point in politics, maybe, could be meeting Yar'Adua.
Okay, Your Excellency, we want to thank you for this short time that you have granted us, and we want to believe that this will be the last effort you are making at the presidency.
No! It is not the last. How old am I? If somebody, at 70, is trying to become president, how old am I? (General laughter…)
So, you will keep on trying?
Oh yes! I will keep on trying until I get there. I enjoy it, every bit of it