My dad and his wife are still together ----Sola Kosoko,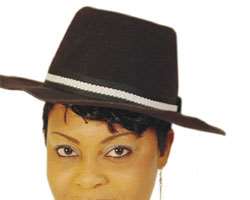 Sola Kosoko, the daughter of the immediate past ANTP president, Jide Kosoko, who is currently at the Osun State NYSC Camp in Ede for her three-week orientation exercise, speaks on her career, life and family, among others, in this interview with ADEWALE ADEBIYI. Excerpts:
YOU will be staying here for three weeks. What do you think you will miss within those weeks?
My job of course and lots of other things. I'm at present working on my new film, which I intend to show in Lagos. I'm supposed to have started the publicity by now, but immediately I leave this place, that will be the first thing I will do.
Don't you think dislodging some Lagos State corps members to Osun, Ekiti and Ondo is a sign of crisis?
No. I don't think it's a problem or any internal crisis, it's just that the Lagos orientation camp is filled and can't accommodate all of us. Immediately after the orientation, we'll relocate to Lagos.
Is it true that you are married?
I'm not. By God's grace, very soon I will be married.
What's your take on the issue of seniority between the females in the industry?
Well, that is our culture. We are taught to respect our elder; I don't think that should call for quarrels. Although, I'm not blaming anyone, as a Yoruba girl, it is important to respect whoever is older than you.
Should that extend to those who are not older but just famous or richer than others who are older in your industry?
Of course. In every profession, there is seniority. The fact that someone is your senior in the profession demands that you respect that person.
How were you able to combine schooling as a full-time student and acting at the same time?
It wasn't easy. There were many times my work suffered for schooling and vice versa, but I made sure that school didn't suffer much. At times, I might be preparing to go to a location on Tuesday and something would come up in school on Wednesday. I always returned the script if it ended up that way.
Is it true that you once dropped out of school?
There was never a time that I dropped out of school. What happened was that I did a diploma course in Industrial Relations between 2003-2005 and had to wait for a year before I was admitted for my degree programme at the Olabisi Onabanjo University. Many thought I dropped out because, when I got admitted, it was the second semester and I couldn't catch up on missed classes. I had to wait for another session.
Do you believe that Yoruba actors and actresses are second to their counterparts in the English industry?
I don't believe that. The fact that they speak English does not make them better than those who speak Yoruba. Are they Oyinbos? We have graduates among us. We are all professionals.
Have you been pestered for sex to get a role before?
No, never.
Is it because your dad was the ANTP president?
That was a privilege, but it is not as bad as you guys make it seem. If anyone agrees to give her body for a script,that is because she is not sure of herself.
Is it true that Henrieta and your father have parted ways?
It's not true. Not at all. They are still together. She is my step-mother and we all live together. Apart from the normal quarrels between husband and wife, which they settle amicably, she is still with my father. My dad never fights his wife.
You don't stay with your mother?
She is late.Sorry about that. Is it true that you are the only one that acts among your father's children?
No I'm not. My younger sister also acts. She is presently studying Theatre Arts in LASU and my elder brother is a writer.
What's the NYSC orientation experience like?
It is the best phase a graduate could experience. Initially when I got here, it was very stressful because of the registration exercise, the sleeping and waking up early. But now, I am catching my fun. The drilling exercise keeps you fit and the lectures are educating.