Announcing The Passing Of A Good Man: Pa Nweke Udemezue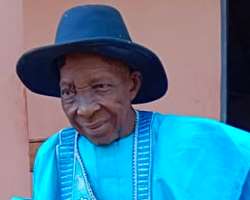 With sadness in our hearts, but with sincere gratitude and total submission to the will of God Almighty, we, members of the family of the Nweke Udemezue family of Enugu-Na-Uwani, Akiyi-Umulokpa, Uzo-Uwani LGA of Enugu State, Nigeria, announce the sudden passing of our beloved husband, father, grandfather, great-grandfather, uncle, and brother, Pa Nweke Udemezue. He passed away peacefully at about 5:00 pm on Saturday, November 18, 2023, aged 82 years.
Pa Nweke Udemezue was a loving man and community leader who touched the lives of many people throughout his life. He was respected for his transparent honesty, forthrightnes, wisdom, kindness and generosity; he dedicated his life to serving others, and to defending the rights of others. His memory will remain with us forever, and we will always cherish the time we were able to spend with him.
While we mourn his loss, we find comfort in the knowledge that he is survived by a brother, a sister, his wife, 07 (seven) children, 19 (nineteen) grandchildren, 06 (six) great-grandchildren, and numerous nieces, nephews and other relatives and well wishers.
The funeral arrangements will be announced later.
While thanking everyone for their support, messages, calls and condolences, we ask for your prayers during this difficult time, and especially for the peaceful repose of papa's gentle soul.
Rest in peace, Papa; your legacy will live on.
Signed:
For the Family
Sylvester C. Udemezue (Udems)
08039136749 , 08109024556 .
[email protected].