Benue Governor Denies Spending N40bn In Five Months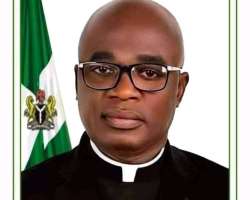 Governor Hyacinth Alia of Benue State has described report alleging that he expended over 40 billion naira in five months as 'fictitious' and 'malicious'.
A report (not from the Nigerian Voice) had accused the governor of spending over N 2 billion for purchase of vehicles for himself, Assembly members, commissioners and other aides when he had promised to cut the cost of governance.
Meanwhile, the governor through his Chief Press Secretary, Kula Tersoo, said that the online publication was not in tune with the current market price of automobiles.
The media aide explained that if going by the current market price of vehicles, the reported N2,040,780,000 for the procurement of vehicles for 32 members of House of Assembly, 17 Commissioners and several Special Advisers and Principal Special Assistants was underestimated.
"This is the most mischievous news we have held. The reporter is not in touch with economic realities of our time. Alia's administration took off from ground zero he did not meet any functional vehicles as he continued driving the same vehicles he used during his campaigns.
"He did this to minimize cost so as to take care of other pressing issues. Two (2) billion naira is not adequate for purchase of vehicles for Governor, Assembly members, commissioners and Special Advisers.
"There are 32 members of the Assembly including the principal officers who are entitled to two (2)vehicles, 17 commissioners, several special Advisers and Principal Special Assistants."
He said that all ongoing projects in the state which he mentioned include; 16 roads ongoing, solar streets lights, reconstruction of the State Assembly which has gone beyond 80 percent and procurement of fertilizers subsidized by 50 percent were good start for the government.
He added, "The governor has a pact and a covenant with the people pensions are paid up to date as well as salaries. You must not blackmail to get attention.
"Governor is prudent in handling resources of the State. Govt had to prioritise pension which was last paid in 2021."