APC Chieftain Joins Edo Governorship Race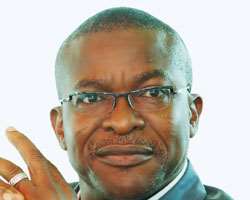 A chieftain of the All Progressives Congress (APC) in Edo State, Charles Airhiavbere, has declared his interest to contest Edo State governorship seat.
While declaring, Airhiavberethe noted that the state needs a competent governor, irrespective of the zone.
Airhiavbere, during a meeting with members of Oredo Ward 1 in his residence in Benin, spoke against the zoning of the governorship ticket to any of the three senatorial zones.
He said the state needs a governor who would respect and restore the dignity of the Benin monarchy.
Airhavbere said, "I have always insisted that Edo State should be governed by a party that is in the centre because this is the heartbeat of the nation. How can the heartbeat be in another party and then you still say it is the heartbeat?
"We must trust the government at the federal level, and we must key in. That is why we are restating that bringing the state under the APC government is a task that must be done. That is one of the reasons I have decided to throw my hat into the ring and make sure that we rescue the state.
"We hear people saying there should be zoning; you can only zone what you have; if you don't have a daughter, you cannot give out a daughter in marriage. That is why the APC must present the best, and the best is standing before you."
He said he has supported the candidates of the APC since 2016, "and that is why I decided to come out. I told Edo people that it is the turn of GC."