HYUNDAI TAKES ON AUTO WORLD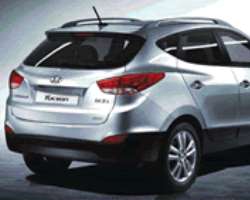 Tucson
Leading auto maker, Hyundai Motors, seems to be racing confidently towards achieving its target of overtaking the Western brand's to become one of auto world's top four manufacturers in a couple of years.
The brand and its products have recently been winning one award after another one, and earning high marks in performance and perception surveys across the world - a development which has got the competitors glancing at the side mirrors to know how close the Korean has come.
Last week, America's Kelley Blue Book's Kbb.com Brand Watch reported that Hyundai had made the list of top five most-considered brands. In Q2 2010 Hyundai brand consideration surged nearly six percentage points in the non-luxury coupe/sedan/hatchback segment. Hyundai now garners 29 percent of the total consideration among shoppers of this segment, beating out top competitors like Nissan. Kelley Blue Book's Brand Watch is an ongoing study tracking and trending consumer perceptions, detailing strengths and weaknesses of makes within each segment.
'Hyundai is truly on a roll,' said James Bell, executive market analyst for Kelley Blue Book's. 'Hyundai has proven that when you make dynamic, exciting and affordable products that appeal to the new-car shopping masses, consumer perception begins to change and subsequently, sales will follow.' 'Being named one of top five most-considered brands truly demonstrates Hyundai's continued commitment to delivering stylish, fuel efficient and affordable vehicles,' said Mike O'Brien, vice president of corporate and product planning, Hyundai Motor America. 'As seen with our recent Tucson and Sonata models, Hyundai is committed to providing quality vehicles with class-leading safety technologies and performance features'.
In the first quarter of the this year, Kelley Blue Market Intelligence data, brand loyalty for Hyundai surpassed that of Honda and Toyota, leading Hyundai's brand loyalty to the No. 1 spot among car shoppers whose comments were obtained. In addition, Hyundai values have been outperforming the car segment average, and the all-new Sonata recently emerged on the its Top 10 Most-Researched New Vehicles list.
When comparing February 2010 data to Q4 2009, Korean import automaker Hyundai has seen the greatest recent increase in loyalty, with owners looking at new models within the brand increasing by 10.4 percentage points to 56.3 percent.  This surge leads Hyundai to the top spot in brand loyalty on the Kelly Blue Book's survey for the first time in recent history, up from third place in Q4 2009.
In the same timeframe, Toyota fell from the No. 1 spot to third place and Honda continues to hold steady at second place.  A fewer percentage of Toyota owners are looking at new models within the brand, down 4.4 percentage points to 53.3 percent, driving Toyota loyalty to third place. Holding steady in second place, Honda owners looking at new models within the brand have increased by 0.7 percentage points to 55.8 percent.
In Nigeria, aside the boost given to the Hyundai sales by the introduction of the new class-beating Sonata and the wave-making Tucson ix35 SUV (which sold out even before being introduced into the market), the brand's perception among members of the buying public has been appreciating as the exclusive marketer and an arm of the Stallion Motors, Hyundai Motors Nigeria Limited, steadily ups the quality and spraed of its after-sales delivery in different parts of the country.
Meanwhile, Hyundai has been officially declared the most fuel-efficient automaker in America. That's according to the Environmental Protection Agency's latest annual fuel economy report (pdf). In lab tests to determine combined city-highway fuel economy of cars and trucks, Hyundai's fleet achieved 30.1 miles per gallon. The Korean company is the only automaker to top 30 mpg.
'Our thoughtful application cost-effective, fuel-efficient technologies has helped us achieve our goal of leading the industry in fuel economy ahead of schedule,' said John Krafcik, President and CEO, Hyundai Motor America. Last year, Hyundai's leadership promised to achieve the government-mandated 2016 CAFE standard of 35.5 miles per gallon by 2015.
The latest EPA numbers indicate that the Hyundai is moving faster than anticipated. Last year, Krafcik told said, 'We're taking fuel efficiency higher and faster than any other carmaker. We're going to pass Toyota and Honda by 2015.' The company is now promising to extend its lead by launching direct injection and turbocharging technologies, as well as introducing its first hybrid in the US—the 2011 Hyundai Sonata Hybrid. 'In this age, fuel efficiency is the new zero-to-60 time. It's more socially relevant,' Krafcik said.
The runner-up carmakers in the EPA's 2009 list of top five fuel-efficient carmakers are Honda (29.7 mpg), Volkswagen (29.6 mpg), Toyota (29.4 mpg), and Kia (28.0 mpg.)
Another good news from Hyundai is that it's move to a more efficient lower-priced fleet of vehicles is resonating with consumers. While auto sales were relatively flat in November 2009, Hyundai's sales surged by 46 percent. The automaker sold 28,045 vehicles, led by a 93 percent jump in sales of its compact Hyundai Accent and a 52 percent increase for Sonata sedans. High quality, competitive prices, and strong warranties helped Hyundai make its gains.