UNIDO in cooperation with other partners to promote digital transformation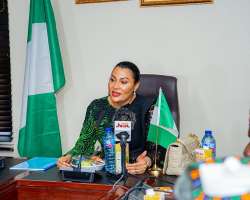 Dr. Doris Anite (Minister of Industry, Trade and Investment)
Partnership have been established among the United Nations Industrial Development Organisation (UNIDO), Investment and Technology Promotion Office (ITPO), Nigerian Association of Small and Medium Enterprises (NASME), Sterling One Foundation and other stakeholders to promote digital transformation.
This was made known at the West African SMEs Exhibition in Abuja, tagged: "MSMEs 4.0: Enhancing Quality, Productivity, Competitiveness, Resilience, and Sustainability in an Era of Digital Transformation."
While speaking at the event, the Minister of Industry, Trade and Investment, Dr. Doris Anite, represented by the Director-General, Small and Medium Enterprises Development Agency of Nigeria (SMEDAN), Charles Odii, noted that the government is committed to establish a technology incubation hub in Abuja.
She explained that the initiative aims to generate over one million jobs across various economic sectors in the country. Head of UNIDO ITPO, Nigeria, Ms. Abimbola Olufore, also noted that the exhibition is in alignment with UNIDO's mandate to connect investors and technology providers to create synergies and accelerate solutions for sustainable development; connect companies and investment projects with investors and technology providers.
The Chief Executive Officer of Sterling One Foundation, Olapeju Ibekwe, further applauded the leadership of UNIDO ITPO for the vision to provide and improve sustainable funding opportunities for SMEs and MSMEs in the country with focus on green and clean technology.
Similarly, the President and Chairman Governing Council of NASME, Dr Abdulrashid Yerima, pointed out that the goal of the exhibition was to invite MSMEs in technology to meet with investors, grant providers and financial institutions. He said the exhibition also provided a platform for them to engage and identify businesses they want to be supported.