Enugu LGA Chairman Sacks Adviser Caught In Sex Video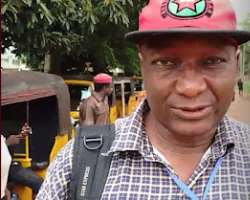 Emma Nwangwu, the embattled special assistant to the chairman of Nsukka local government area of Enugu State, has been relived of his appointment following allegation on adultery.
It was reported that Nwangwu was allegedly identified in a trending video having an illicit affair with a married woman.
In the letter of termination of appointment by Michael Eze, secretary to Nsukka LGA, it was stated the embattled adviser would be paid one month salary.
The letter reads, "I'm directed after all necessary considerations by the chairman of Nsukka local government area to terminate your appointment for conduct unbecoming of an honourable member of the council, and your appointment is hereby terminated. You are entitled to one month salary in lieu of the notice in view of the law.
"You are therefore directed to hand over the property of the council in your possession to the secretary of the council within forty-eight hours."
Following the allegation, Nwangwu had dismissed the claim, saying 'it is propaganda, it's not true."
Hon Walter Ozioko, chairman, Nsukka local government area of Enugu State, had disclaimed Nwangwu, who is his special adviser on transportation.
Hon Ozioko made the disclaimer in a press statement by his chief press secretary, Mr Ejike Okpe.
The statement read, "The council chairman, being a true son of Nsukka land with high degree of integrity, clearly understands the sanctity of marriage in the land and, as such, cannot condone such nefarious act no matter who is involved. The alleged perpetrator of the nefarious act will face the consequences fully."